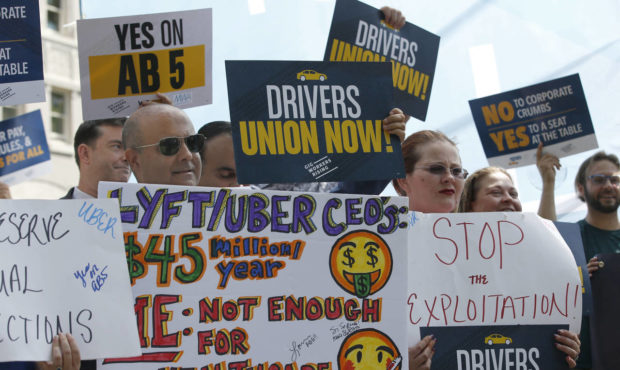 Reprinted from The Los Angeles Times by Margot Roosevelt, Johana Bhuiyan and Taryn Luna on September 11, 2019.
California lawmakers rewrote the rules of employment across a wide swath of industries Wednesday in legislation that could grant hundreds of thousands of workers new job benefits and pay guarantees.
After vigorous debates over what occupations should be exempted, Assembly Bill 5, which curbs businesses' use of "independent contractors," gained final approval in the state Senate and the Assembly and was sent on to Governor Gavin Newsom, who has pledged his support.
The 6,700-word bill, one of the most controversial of the year, could upend the relationship between workers and bosses across businesses as varied as ride-hailing tech giants, construction, healthcare, trucking, janitorial services, nail salons, adult entertainment, commercial fishing and newspapers. …
The legislation was pushed by a powerful coalition of labor unions, many of which have suffered stagnating membership as companies classify large chunks of their workforces as independent contractors. Under federal law, only employees can join unions and collectively bargain for wages and benefits. …
In California, Gig Workers are about to Become Employees
Reprinted from Wired by Aarian Marshall on September 11, 2019.
A bill passed by California lawmakers Wednesday could put guardrails on the gig economy and its reliance on "independent contractors." The legislation, Assembly Bill 5, may reshape the way some of the state's marquee companies—including Uber, Lyft, and DoorDash—as well as many janitorial services, truckers, and musicians do business.
The bill passed the State Senate 29–11 late Tuesday, and the Assembly 56–15 on Wednesday. It now moves to Governor Gavin Newsom's desk. Newsom came out in favor of the controversial bill on Labor Day, but said Tuesday that he's still hoping to reach a deal that might satisfy both the companies and labor advocates.
Labor experts expect the bill to prompt similar efforts in other states and cities where public sentiment has shifted against tech companies like Uber and toward labor efforts like unionization drives. "All eyes are on California," says Rebecca Smith, who directs the Work Structures program at the National Employment Law Project.
AB 5 codifies a 2018 California Supreme Court decision that established a three-part test to determine whether a worker is an independent contractor or an employee, eligible for a minimum wage, unemployment and workers' compensation, health care benefits, and other traditional protections. According to the test, a worker is only considered an independent contractor if she is not under the control or direction of a company while working and if she performs work that is "outside the usual course" of the company's business. The bill does not address workers' rights to collectively bargain. …
Confusion and Defiance Follow California's New Contractor Law
Reprinted from The New York Times by Kate Conger and Noam Scheiber on September 11, 2019.
After months of bickering over who would be covered by a landmark bill meant to protect workers, California legislators passed legislation on Wednesday that could help hundreds of thousands of independent contractors become employees and earn a minimum wage, overtime pay and other benefits.
But even before California's governor, Gavin Newsom, had signed it into law, the battle over who would be covered flared up again. Uber, one of the main targets of the legislation, declared that the law's key provisions would not apply to its drivers, setting off a debate that could have wide economic ramifications for businesses and workers alike in California, and potentially well beyond as lawmakers in other states seek to make similar changes.
"California sets off a chain reaction," said Dan Ives, a managing director of equity research at Wedbush who tracks the ride-hailing industry. "The worry is that the wildfire spreads." …