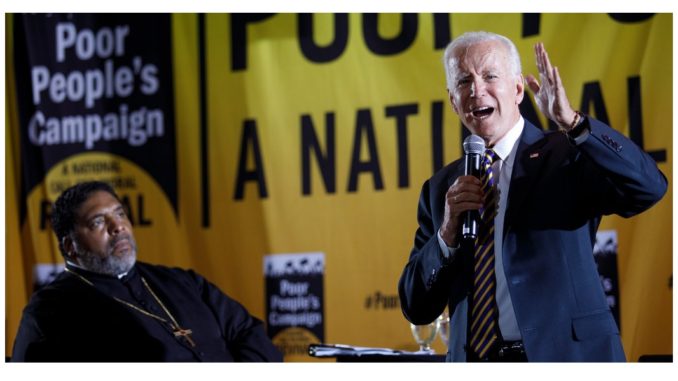 Reprinted from The American Prospect by Kalena Thomhave on June 28, 2019.
"When Reverend Dr. William J. Barber II, founder of the Moral Monday movement, co-chair of the current Poor People's Campaign, and one of the most popular faith leaders in the country, asks something of you, you say yes," writes Kalena Thomhave in The American Prospect. "Especially if you're running for president.
"Last week, the Poor People's Campaign hosted a 'Moral Action Congress' to force discussion about the economic instability that is threaded throughout the lives of 140 million Americans. But after two nights of Democratic debates, I'm not sure participation in the Poor People's Campaign forum affected any of the candidates enough for them to bring their experience with them on stage. But their remarks about Medicare for All and income inequality suggest that the Democratic Party is finding new ways to address poverty in the US—and they can and should go farther.
"Barber and his co-chair Reverend Dr. Liz Theoharis had invited all two-dozen candidates to Trinity Washington University to discuss their commitments to ending poverty. They grilled each of the nine who showed (Warren, Sanders, Harris, Biden, Yang, Bennet, Williamson, and Swalwell as well as Wayne Messam, the mayor of Miramar, Florida, who didn't qualify for the NBC Debates), to support a debate focused solely on the topic of poverty. Each candidate agreed, though few expect the DNC to convene issue-based debates.
"On the stage in Miami, it was up to candidates to bring up poverty—there were no explicit questions about it, and the concerns of the impoverished are typically not debated in such marquee settings. The word 'poverty' itself was only uttered three times, and each was in a closing statement: de Blasio on night one, and then Swalwell and Sanders, who explicitly asked 'How come we have the highest rate of childhood poverty?' on night two.
"But the way the Democratic Party debates the root causes of poverty may be changing. Policies like Medicare for All, student debt cancellation, and free public college acted as proxies for discussions of economic justice. Warren called for 'structural change,' saying 'When you've got a government, when you've got an economy that does great for those with money and isn't doing great for everyone else, that is corruption, pure and simple.' …
2020 Democrats Address Poverty and Systemic Racism at Presidential Forum
Reprinted from The New York Times by Thomas Kaplan on June 17, 2019.
Former Vice President Joseph Biden Jr. struck a notably different tone than some other Democrats on Monday over how to bring about change in government, defending his approach to working with Republicans during an appearance at a forum where he and eight other presidential candidates shared their views on addressing poverty.
Biden suggested that those who cannot conceive of compromising with the opposition might as well "start a real, physical revolution."
"Folks, look, if you start off with the notion there's nothing you can do, well, might you all go home then, man?" he said. "Or let's start a real, physical revolution if you're talking about it. Because we have to be able to change what we're doing within our system."
Biden, who has drawn criticism from some liberals for his efforts to appeal to moderates in a polarized era, also expressed confidence about how he would fare in the South if he wins the Democratic nomination and faces President Trump in the general election. He said that he planned on winning North Carolina, South Carolina and Georgia, and that he believed he could win Florida and Texas as well.
Biden made his comments at a forum convened by the Poor People's Campaign, which seeks to draw attention to issues like poverty and systemic racism. It is a revival of the campaign that was planned by the Reverend Dr. Martin Luther King Jr. before his assassination a half-century ago. …