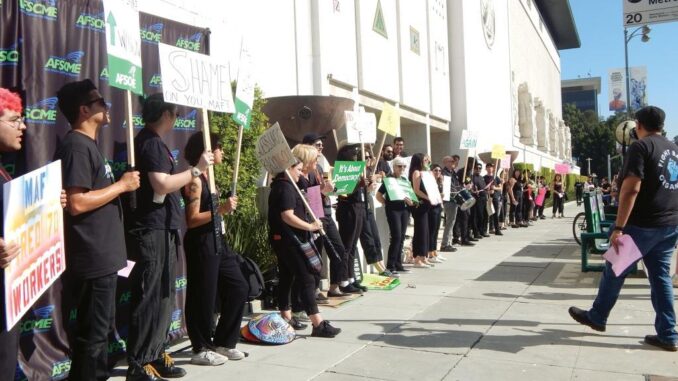 Reprinted from The American Prospect by Beige Luciano-Adams on January 31, 2020.
"As a promising wave of organizing helps shift the narrative around labor unions in the US, recent polls suggest public support is at its highest rates in decades," writes Beige Luciano-Adams in The American Prospect. "This follows a record year of strikes, in which teachers, hotel employees, and health care workers have turned local struggles into national movements. Meanwhile, toxic work environments, exploitation, and substandard conditions—both expression and incitement of the obscene inequality that defines our era—continue to drive workers in tech, service industries, and various pockets of the gig economy to seek representation. More diverse memberships, including in sectors historically peripheral to the labor movement, are redefining what it means to be a unionist.
"As part of this trend, organizing in art museums, nonprofits, and cultural institutions is having a moment. Workers are drawing attention to the gulf between institutional mandates and internal labor practices, and challenging assumptions about what kind of workers deserve protection. In spaces long insulated by prestige, they are questioning the normalization of uneven labor rights.
"Taking inspiration from newly formed unions at the Guggenheim, the Tenement Museum, and the New Museum in New York, employees at the Marciano Art Foundation and the Museum of Contemporary Art, both in Los Angeles, recently submitted union cards to the National Labor Relations Board. Marciano, an outgrowth of the Guess fashion empire that remains a caricature of anti-union animus two decades after moving its sweatshops from downtown L.A. to Mexico, immediately laid off the museum's entire staff and folded, citing low attendance. MOCA initially issued a dismissive statement. But bruised from a series of controversies, and striving to establish itself as a relevant civic beacon on downtown L.A.'s re-emergent Grand Avenue, it quickly pivoted and voluntarily recognized the union in early December. …