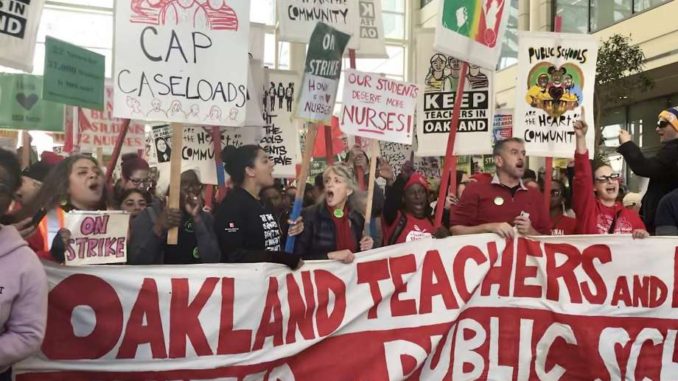 Reprinted from The San Francisco Chronicle by Ashley McBride on February 28, 2019.
A week into the Oakland teachers' strike, around 100 educators from neighboring Bay Area districts joined their Oakland peers on the picket lines Thursday in a show of transbay solidarity.
They echoed Oakland teachers' sentiments about better working conditions, higher pay and smaller class sizes and expressed similar struggles at schools in San Francisco, Berkeley, San Lorenzo and Albany.
Elizabeth Dutton, a math teacher at Mission High School, said the effort followed a smaller-scale sickout on Monday, when she, along with four other Mission High teachers and one student, joined the picket line at Skyline High School. …
… The teachers' union is seeking a 12 percent pay raise over three years and the district previously offered a 5 percent raise over three years but last week made a new offer of 8.5 percent over four years. …