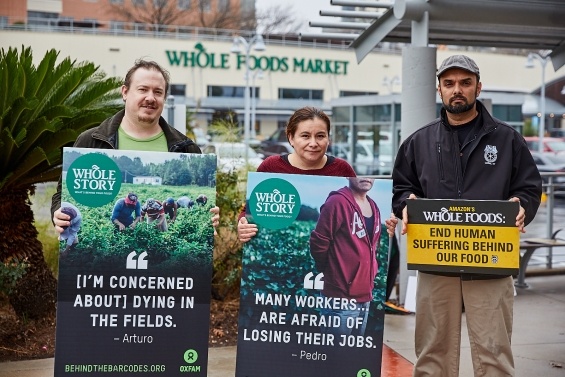 Reprinted from PR Newswire by the International Brotherhood of Teamsters on January 17, 2020.
On Thursday, January 16, in Austin, Texas, a delegation of Oxfam, Farm Labor Organizing Committee (FLOC) and Teamsters Union representatives joined forces, demanding Whole Foods take real steps to clean up abusive labor practices in its food supply chain.
Whole Foods is one of the lowest-scoring supermarket chains on Oxfam's human rights scorecard, even worse than Walmart.
Oxfam, a charity that fights worldwide hunger, has been exposing serious human rights violations in Whole Foods' supply chain in a number of countries.
"Whole Foods claims to be a sustainable grocer, yet for over two years hasn't addressed the human rights abuses of food workers and producers in its supply chain," said Sarah Zoen, Senior Advisor with Oxfam. "Whole Foods has the potential to lead and we are ready to sit down to work together to make significant change possible." …