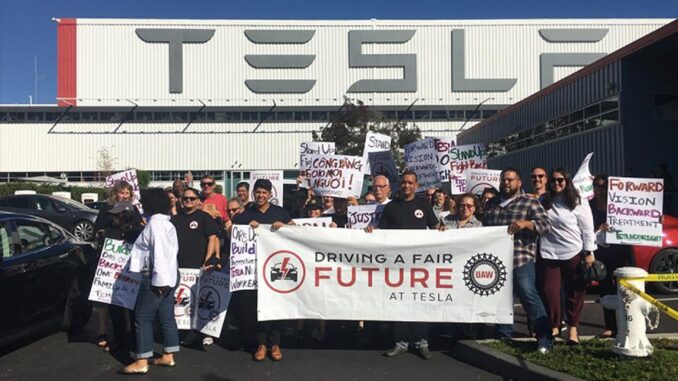 Reprinted from Clean Technica by Carolyn Fortuna on July 1, 2018.
In California, if you want to take advantage of thousands of dollars of rebates when you purchase an electric vehicle, your automaker must adhere to the state's labor practices. A Tesla labor battle is now underway with two California agencies, as they want the all-electric automaker's Fremont factory to be certified as a "fair and responsible workplace." That designation is part of language that allows customers to be eligible for taxpayer-backed state electric vehicle rebates. Tesla isn't happy and has filed a 16-page response fighting the rule. …
The United Auto Workers (UAW) wants to represent Tesla's workforce, just as it did for employees of New United Motor Manufacturing, Inc. — a joint venture by Toyota and General Motors that closed in 2010. Tesla's main manufacturing facility is in the former NUMMI plant. Tesla has claimed that the UAW has been engaged in a handful of underhanded, disingenuous efforts to smear the company and push for unionization. Furthermore, Tesla CEO Elon Musk has highlighted the fact that Tesla couldn't stop unionization if employees wanted it, that they don't want it, and that it wouldn't be good for them.
Tesla declined to comment to CleanTechnica beyond its letter to the air board.
"I've never stopped a union vote nor removed a union," Musk tweeted on May 23, 2018. "UAW abandoned this factory. Tesla arrived & gave people back their jobs. They haven't forgotten UAW betrayed them. That's why UAW can't even get people to attend a free BBQ, let alone enough [signatures] for a vote."