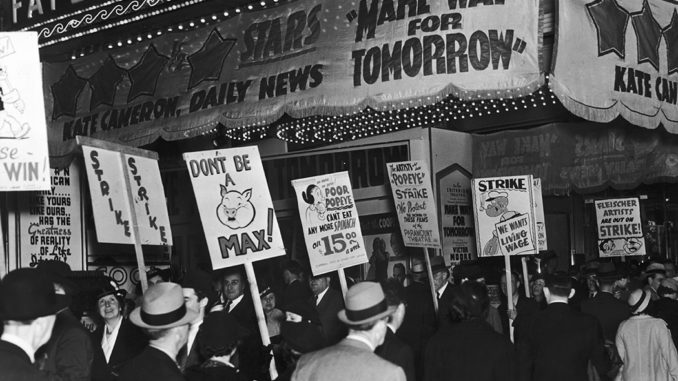 Reprinted from The Daily Jstor by Kristin Hunt on January 2, 2020.
Sadie Bodin was not fired over union activity—on that, Van Beuren Studios was adamant. The animation studio knew that it wasn't exactly legal to punish workers for organizing under the Roosevelt administration's new National Recovery Administration, which aimed to promote fair labor practices during the Great Depression. But it also knew that federal protections for unions were still weak and hazy. It was early 1935, when Roosevelt had yet to sign the Wagner Act. The studio brass was curious to see how far it could test the limits. So they said Bodin, an inker who had met with union reps, was let go for her bad attitude.
That spring, Bodin and her husband appeared outside the studio's Manhattan office with signs. "Van Beuren Violates Sec. 7-A NRA by Firing Union Labor for Union Activity," they read. The couple's protest of two remained just that over the ensuing days, a lonely endeavor that Bodin's coworkers did not join, but it was the first time anyone had picketed an animation studio, and it wouldn't be the last. Two years later, employees at Fleischer Studios would embark on a five-month strike that led to the first union contracts in animation, a subsequent strike at Disney, and groundbreaking new works from the frustrated employees who left these animation shops to set out on their own. It was a seismic event that forever changed American animation, and successfully challenged the young industry's punishing work standards. Fleischer Studios just wouldn't live to see it all.
By 1937, Max and Dave Fleischer were well-established names in animation. The brothers were responsible for characters like Koko the Clown, Betty Boop, and Popeye, all cartoon headliners who starred in shorts distributed through Paramount. These creations naturally required a lot of upkeep, which is why the Fleischers employed a large production staff. Before the strike, it included at least 167 people, according to the animation historian Harvey Deneroff. …