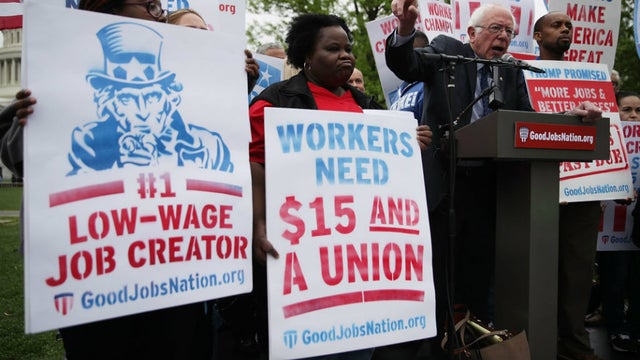 Reprinted from The Hill by Mary Kay Hill on October 10, 2019.
"During the primary races in 2016, there were nearly two dozen televised debates, plus another three debates during the general election," writes Mary Kay Hill in The Hill. "But not a single one addressed how any of the candidates running for president of the United States would empower workers to organize in a union. The issue could not be more urgent for Americans at a time when politicians are relentlessly giving handouts to rich and powerful corporations, all while pointing the finger at immigrants and people of color for our hard times.
"But just three years later, it is a different world. Democratic presidential candidates such as Bernie Sanders, Elizabeth Warren, Kamala Harris, Pete Buttigieg, Cory Booker, Julian Castro, and Beto O'Rourke have already released strong detailed plans that would make it easier for millions of workers to join together on the job. These plans are not just words on a page. Candidates are hitting the campaign trail to underscore their proposals to ensure that every worker has the opportunity to join a union.
"This past weekend, the leading Democratic presidential candidates spoke at a Unions for Al summit in California hosted by more than 1,000 janitorial, security, fast food, health care, and gig workers who are organizing to win a union on the job. It is no accident that the issue of worker power is now emerging as a top issue in the 2020 election, even after it remained on the sidelines of the presidential debate three years ago. It is happening because workers across the country are demanding it. …