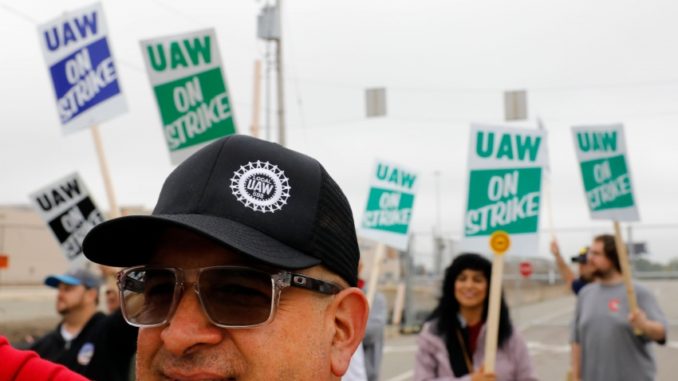 Reprinted from In These Times by Sean Crawford and Maximillian Alvarez on September 18, 2019.
"Nearly 50,000 General Motors (GM) auto workers left their posts and marched off the job en masse late Sunday night," write Sean Crawford and Maximillian Alvarez in In These Times. "Since then, it's been all able bodies to the picket line. The strike is on.
"With negotiations between GM and the United Automobile Workers (UAW) leadership hitting an impasse, the 2015 GM collective bargaining agreement expired at midnight on September 15. The UAW officially announced the strike after local union leaders from around the country convened on Sunday morning. The ensuing images of workers (including a coauthor of this article) hitting picket lines this week glow with an electric air of worker solidarity. From afar, one gets the sense of an undivided union showing its strength—united in the fight from top to bottom. But the view from the pavement tells a very different story.
"Far from a unified front, the largest strike against GM in over a decade reveals something that everyone sitting at the bargaining table in Detroit knows and fears: The divide between the UAW leadership and the rank and file has never been wider. Much of this has to do with revelations from an FBI corruption probe implicating former and current union officials in alleged misdeeds, including rampantly misappropriating union funds and abusing the trust of their members. With news that even current UAW President Gary Jones is being investigated for corruption, anger and frustration among workers is palpable. And their feelings towards GM executives aren't any rosier.
"Workers have watched GM haul in major profits after having been bailed out by the public (to the tune of $11.2 billion) during the Great Recession—and kept afloat by the sacrifices its own employees agreed to make. Among those sacrifices was the introduction of a tiered wage system, which allowed GM to bring in more low-wage and temporary workers to do the same jobs for a lot less money. An ostensibly temporary fix that GM has more or less made permanent, this tiered system sows divisions on the shop floor, and UAW members want it gone.  …