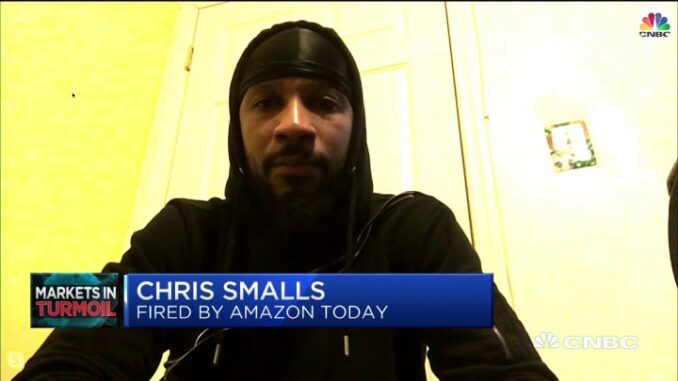 Reprinted from The San Francisco Chronicle by Alexandra Olson and Mae Anderson on March 31, 2020. 
Amazon fired a worker who organized a walkout at a New York warehouse to demand greater protection against the new coronavirus, saying the employee himself flouted distancing rules and put others at risk.
The decision prompted a rebuke from New York Attorney General Letitia James, who called on the National Labor Relations Board to investigate. James said her office is also considering legal options, saying the right to organize is protected in New York.
"It is disgraceful that Amazon would terminate an employee who bravely stood up to protect himself and his colleagues," James said in a statement. …
'The Strike Wave is in Full Swing:' Amazon, Whole Foods Workers Walk Off Jobs
Reprinted from Common Dreams by Julia Conley on March 30, 2020.
Labor rights advocates on Monday urged the public to show support and solidarity with Amazon employees who walked off the job at a Staten Island warehouse following what the workers said was an unacceptable response by the company to at least one case of coronavirus at the facility.
Between 50 and 200 employees at the warehouse, known as JFK8, walked off the job around 12:30 pm Monday, days after at least one case of coronavirus was reported at the facility. Christian Smalls, an employee who is organizing the strike, told CNN the number of employees who have tested positive for the coronavirus, officially known as COVID-19, is actually between five and seven, though the company has only acknowledged one infection.
The workers are demanding that Amazon shut the warehouse down and ensure it is sanitized before requiring employees to work again.
"We're not asking for much," Smalls said. "We're asking the building to be closed and sanitized, and for us to be paid [during that process]." …
Leaked Amazon Memo Details Plan to Smear Fired Warehouse Organizer: 'He's Not Smart or Articulate'
Reprinted from VICE News by Paul Blest on April 2, 2020.
Leaked notes from an internal meeting of Amazon leadership obtained by VICE News reveal company executives discussed a plan to smear fired warehouse employee Christian Smalls, calling him "not smart or articulate" as part of a PR strategy to make him "the face of the entire union/organizing movement."
"He's not smart, or articulate, and to the extent the press wants to focus on us versus him, we will be in a much stronger PR position than simply explaining for the umpteenth time how we're trying to protect workers," wrote Amazon General Counsel David Zapolsky in notes from the meeting forwarded widely in the company.
The discussion took place at a daily meeting, which included CEO Jeff Bezos, to update each other on the coronavirus situation. Amazon SVP of Global Corporate Affairs Jay Carney described the purpose to CNN on Sunday: "We go over the update on what's happening around the world with our employees and with our customers and our businesses. We also spend a significant amount of time just brainstorming about what else we can do" about COVID-19. …