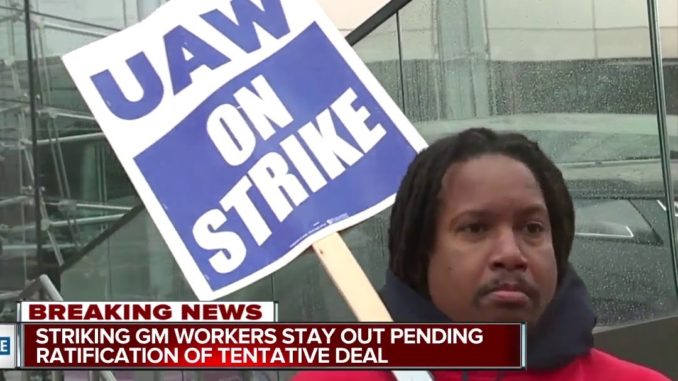 Reprinted from WXYZ TV in Detroit on October 17. It's unattributed.
The terms of the tentative agreement between the UAW and General Motors has been released, and it includes a path for temporary workers and an $11,000 ratification bonus.
The union is now sending the agreement to the membership to vote on. The strike will continue while the vote is ongoing. The voting is scheduled to run from Saturday until Friday, October 25.
Union members we've spoken too are hopeful, but wary. …
The contract also gives an $11,000 ratification bonus for seniority employees and a $4,500 ratification bonus for temp employees.
When it comes to profit sharing, the union said that the $12,000 cap has been eliminated and instead, all profits the company earns will generate payments to members with no limits.
The 4-year deal includes 3% pay raises for two of the years and 4% lump sum payments for the other two. …