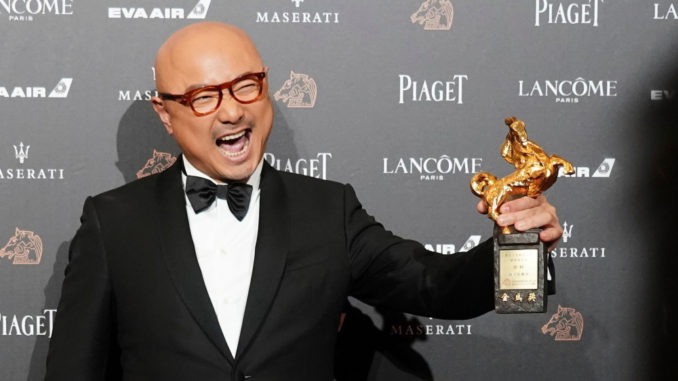 Reprinted from Deadline Hollywood by Tom Grater on November 23, 2019.
Big budget Chinese sci-fi The Wandering Earth took home the best picture [and best sound] prize at this year's Golden Rooster Awards.
The ceremony, which was held Saturday in Xiamen, in China's southeastern Fujian province, was preceded by an announcement earlier this week that the state-backed awards would begin to be held annually after this year, rather than the biennial slot it has had since 2005.
The move has been viewed as part of an effort to establish the Roosters as the primary awards ceremony of the Chinese-speaking movie world, ahead of Taiwan's Golden Horse Awards, which have routinely been referred to as the 'Chinese Oscars' and were also held Sunday, though there were no nominees from mainland China due to a government boycott. …
Best Editing
Enter the Forbidden City …
'A Sun,' 'Detention' Top Winners at Taiwan's Golden Horse Awards
Reprinted from Deadline Hollywood by Tom Grater on November 23, 2019.
Chung Mong-hong's Taiwanese family drama A Sun scooped the best narrative feature prize at the 2019 Golden Horse Awards, which were held today in Taipei.
Chinese authorities boycotted this year's ceremony, provoked by political fallout from last year's ceremony, meaning no Chinese actors, directors and producers were entered into the nominations pool. As such the winners are primarily from Taiwan, as well as other Asian nations including Malaysia and Singapore.
A Sun, which premiered at Toronto, follows a family of four that fractures under the weight of unmet expectations, unexpected tragedy, and uncompromising pride. It also won best director for Chung Mong-hong – his second win in the category after he triumphed for The Fourth Portrait in 2010 – as well as best leading actor for Chen Yi-wen, and the supporting actor and editing prizes. …
Best Film Editing
Lai Hsiu-hsiung, A Sun …
Best Sound Effects
Li Danfeng, Chou Cheng, Morgan Yen, Nina Wu …
China's Golden Rooster Awards to Take Place Annually
Reprinted from Variety by Rebecca Davis on November 20, 2019.
China's Golden Rooster and Hundred Flowers Film Festival opened in the coastal city of Xiamen with the announcement that the Golden Rooster Awards will be held annually instead of once every two years.
The Golden Rooster Awards have been held 23 times since they were founded in 1981. The event has been held biannually since 2005, when authorities streamlined China's sprawling system of artistic awards by culling and consolidating a number of them. The Golden Roosters, which are determined by jury, were set to alternate every other year with the Hundred Flower Awards, which are decided by popular vote.
The decision to hold them annually once more was made "in response to the rapid development of the film industry" and "a major move made in response to filmmakers' opinions," said Huang Kunming, director of the central propaganda department, which was put in charge of China's film industry last year. …