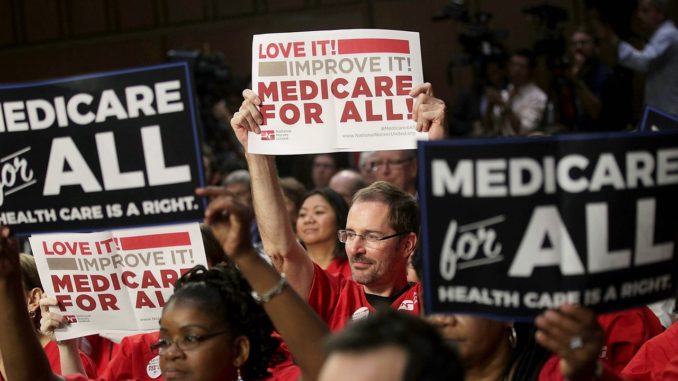 Reprinted from Think Progress by Amanda Michelle Gomez on July 12, 2019.
History tells us that the support of organized labor is critical to any major health care reform in the United States.
Unions represent 1 in 10 US workers, making it one of the largest institutions nationwide. So what does that mean for "Medicare for All," a policy that moves everyone into one public plan with no premiums or deductibles?
Everyone agrees universal health care coverage is the goal, but not everyone agrees Medicare for All is the only or best way to get there — an interesting distinction.
The largest union for registered nurses, National Nurses United (NNU) — with its more than 150,000 members nationwide — has been leading the campaign for Medicare for All, and praised legislation put forward by Senator Bernie Sanders (I-Vermont) and Representative Pramila Jayapal (D-Washington). Going door-to-door, unionized nurses have been selling Medicare for All to the public.
"There is widespread and unprecedented support from unions for Medicare for All. In fact, unions representing a majority of union workers in the United States — over 9 million workers — have endorsed these bills," a representative from NNU said in a statement to ThinkProgress. "We are at historic levels of labor support for this legislation, a fact of which we are extremely proud."
The organization sent ThinkProgress a list of 20 national unions who support House and Senate single-payer bills, including those representing government employees, the postal industry, and utility workers. The Coalition of Labor Union Women and several state federations of the AFL-CIO, the nation's largest labor federation, and AFL-CIO central labor councils are also on the list.
But at least three of the most influential unions NNU named aren't actually married to Medicare for All: Service Employees International Union (SEIU), with 2 million members, American Federation of Teachers (AFT), with 1.7 million members, and United Automobile Workers (UAW), with nearly 1 million members. …