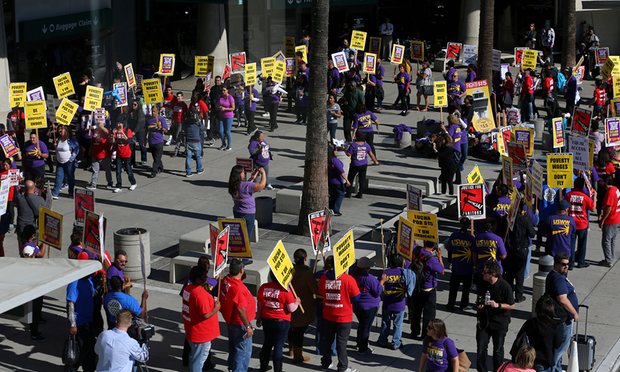 Reprinted from The Guardian UK by Steven Greenhouse on November 29, 2016.
Thousands of Fight for 15 supporters chanted, marched, sat in and got arrested in 340 cities across the US on Tuesday, declaring that they won't back down no matter who is in the White House.
Tuesday's large protest – the fast-food movement's 12th one-day strike – was a far cry from four Novembers ago when the Fight for 15 held its first one-day strike. That day, just 200 workers walked out in one city, New York, calling for fairer wages. On Tuesday, 500 workers at Chicago's O'Hare airport alone went on strike, led by the Service Employees International Union (SEIU).
"Today is the fourth anniversary, and we want to send a strong message: we're not going anywhere regardless of who resides in 1600 Pennsylvania Avenue," said Terrence Wise, a Burger King worker in Kansas City and a member of the Fight for 15's organizing committee. …