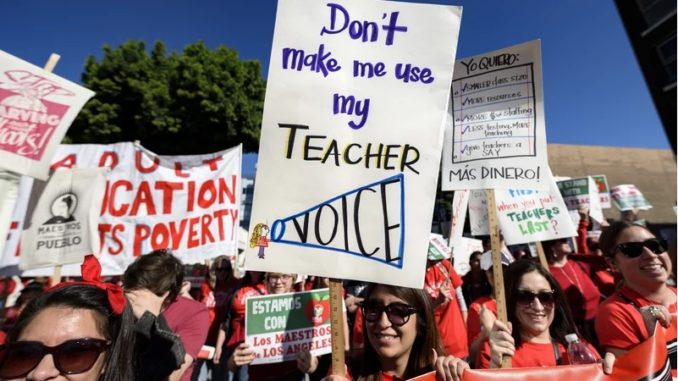 Reprinted from TIME by Katie Reilly on January 10, 2019.
More than 30,000 Los Angeles teachers are preparing to strike on Monday for the first time in 30 years due to failed negotiations over school funding, pay raises and classroom sizes. But as they look to mobilize support, teachers are also focusing on the growth of charter schools as a central issue in the nation's second largest school district.
At a press conference Wednesday night following another day of negotiations, United Teachers Los Angeles (UTLA) President Alex Caputo-Pearl accused district leaders of wanting "to starve our schools in order to justify cuts and justify handing more schools over to privately run charter schools."
He called for a cap on charter school growth, including it on a list of issues that, while not on the bargaining table now, "absolutely shape the direction of public education in Los Angeles." …
About one in five Los Angeles students now attend charter schools, and charter school enrollment has continued to grow in the past decade as overall enrollment in the district has declined. The city now has more charter schools and more charter school students than any other school system in the country, The Los Angeles Times reported. Most charter school employees are not unionized. …
Reprinted from Dissent by Nelson Lichtenstein on January 7, 2019.
Thirty-five thousand Los Angeles school teachers are on the verge of a strike. Their demands include a 6.5 percent pay increase, smaller class sizes, more funding for school counselors, nurses, and librarians, and a cap on the proliferation of charter schools throughout their city. The strike would be consequential whatever the issues: the Los Angeles Unified School District is the second largest in the nation, with over 640,000 students, 1,000 schools, more than 60,000 employees, and a budget of $7.5 billion. But this bitter conflict is also a fight about the meaning of progressive politics and the character of the Democratic Party as it readies itself to supplant, on a national level, Donald Trump and his allies. Since the Trumpists have little influence or support in California, what happens there could portend how future political conflicts will unfold in an America where liberals are in power. …