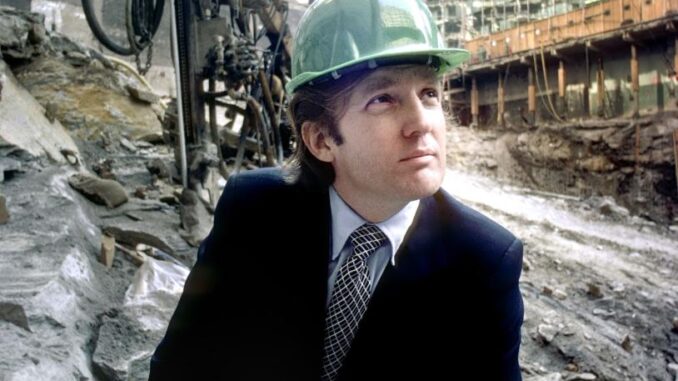 Reprinted from Time by Massimo Calabresi on August 25, 2016. 
In the summer of 1980, Donald Trump faced a big problem. For six months, undocumented Polish laborers had been clearing the future site of Trump Tower, his signature real estate project on Manhattan's Fifth Avenue, where he now lives, maintains his private offices and hosts his presidential campaign.
The men were putting in 12-hour shifts with inadequate safety equipment at subpar wages that their contractor paid sporadically, if at all. A lawyer for many of the Poles demanded that the workers be paid or else he would serve Trump with a lien on the property. One Polish worker even went to Trump's office to ask him for money in person, according to sworn testimony and a deposition filed under oath in a court case.
For help, Trump turned to Daniel Sullivan, a 6-ft. 5-in., 285-lb. labor consultant, FBI informant and future officer of the Teamsters Union. "Donald told me he had difficulties …," Sullivan later testified in the case. "That he had some illegal Polish employees on the job."
Sullivan had been helping Trump negotiate a casino deal in New Jersey at the time, and he testified that he was shocked by Trump's admission. "I think you are nuts," Sullivan testified that he told Trump. "You are here negotiating a lease in Atlantic City for a casino license and you are telling me you have got illegal employees on the job."
For 36 years, Trump has denied knowingly using undocumented workers to demolish the building that would be replaced with Trump Tower in 1980. After Senator Marco Rubio raised the issue of undocumented Polish workers during a Republican primary debate this year, Trump described himself as removed from the problem. "I hire a contractor. The contractor then hires the subcontractor," he said. "They have people. I don't know. I don't remember, that was so many years ago, 35 years ago."
But thousands of pages of documents from the case, including reams of testimony and sworn depositions reviewed by TIME, tell a different story…