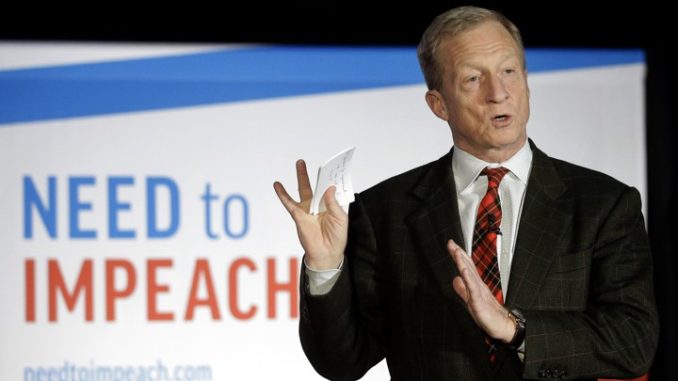 Reprinted from The Washington Post by Chelsea Janes on July 9, 2019.
Tom Steyer, the billionaire activist who considered a run for the Democratic presidential nomination earlier this year only to decide against it, will enter the race after all.
In a four-minute video released Tuesday morning, Steyer announced that he will run on a platform of reducing corporate influence in politics and addressing climate change.
"The other Democratic candidates for President have many great ideas that will absolutely move our country forward, but we won't be able to get any of those done until we end the hostile corporate takeover of our democracy," Steyer said in a statement released Tuesday, alongside the video sent to supporters. …
Tom Steyer is Telling Allies He's Running for President
Reprinted from The Atlantic by Edward-Issac Dovere on July 7, 2019.
The presidential-campaign announcements may not be over yet—with the latest potentially coming from a person who ruled out a run just a few months ago.
The billionaire investor Tom Steyer, who in the past decade has been both the top Democratic donor in the country and the prime engine for pushing for the impeachment of President Donald Trump, appears ready to become Democratic candidate No. 26. Last week in San Francisco, Steyer told staffers at two progressive organizations he funds, Need to Impeach and NextGen America, that he is launching a 2020 campaign, and that he plans to make the formal announcement this Tuesday.
But don't take that to the bank yet—Steyer had told people to expect his presidential run in January, and he had even scheduled a trip to Iowa for a kickoff, only to change his mind in the final days before the launch. That resulted in what was perhaps a first in presidential politics: a trip to Iowa to announce he was not running. Instead, Steyer hosted a town hall for his Need to Impeach group, which currently has 8 million members and in the space of two years has become the largest progressive-leaning organization in the country. …