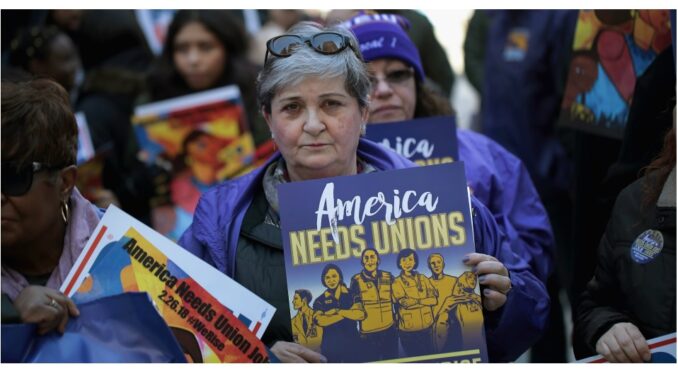 Reprinted from Common Dreams by Jake Johnson on March 20, 2020.
President Donald Trump is not letting the global coronavirus pandemic stand in the way of his administration's assault on what's left of organized labor in the United States.
In fact, as The New York Times reported Friday, the Trump administration is actively using the outbreak as a pretext to ram through union-busting policies and other right-wing agenda items that would likely draw closer scrutiny and public outrage under normal circumstances.
"The White House, under the guise of its coronavirus response, is quietly advancing policies that President Trump has long advocated, from tougher border controls to an assault on organized labor to the stonewalling of congressional oversight," the Times reported. "Administration officials insist that such long-sought policies are necessary to stem the outbreak. But opportunism is clearly in play."
On Wednesday, the Federal Labor Relations Authority (FLRA)—a small federal agency governed by three Trump appointees—quietly issued a rule proposal public-sector unions condemned as "an ideological attack" on organized labor.
Under current law, federal employees are permitted to cancel their union dues and membership during an annual 15-day window after they have been a member for at least one year.
The FLRA's proposed rule would allow federal employees to cancel their dues at any time after one year of union membership.
"That they would push forward with this kind of union-busting in the midst of a pandemic, while front-line federal employees like [Veterans Affairs] caregivers, airport screeners, food inspectors, and other personnel are being forced to fight the administration for basic safety protocols and personal protective equipment, is truly disgraceful," Everett Kelley, president of the American Federation of Government Employees (AFGE), said in a statement Thursday. …