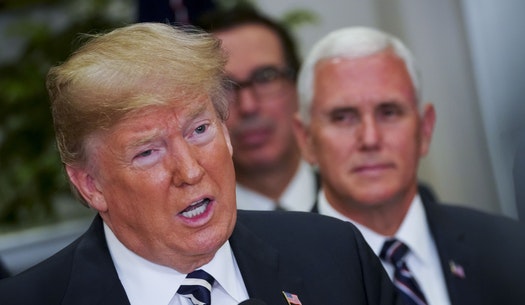 Reprinted from The New York Times by The Associated Press on May 25, 2018.
President Donald Trump on Friday signed a trio of executive orders to overhaul the federal bureaucracy by making it easier to fire federal workers for poor performance and misconduct, requiring that departments and agencies negotiate better union contracts and limiting the amount of time certain federal workers can spend on union business.
Labor unions immediately criticized the moves. …
The American Federation of Government Employees immediately criticized the moves as an attempt by Trump to strip federal employees of their right to representation in the workplace. The union said it represents 700,000 workers in the federal government and the District of Columbia.
"This is more than union busting. It's democracy busting," said J. David Cox Sr., the union's national president. "These executive orders are a direct assault on the legal rights and protections that Congress has specifically guaranteed to the 2 million public-sector employees across the country who work for the federal government." …