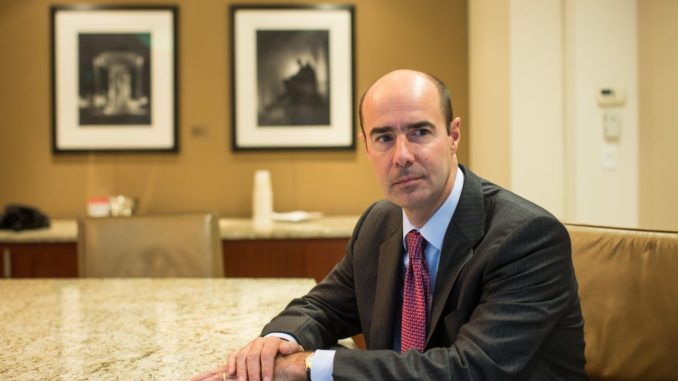 Reprinted from The New York Times by Maggie Haberman, Noam Scheiber and Michael Crowley on July 17, 2019.
President Trump said Thursday that he would name Eugene Scalia as his next secretary of labor, tapping the son of the former Supreme Court justice Antonin Scalia for a position with vast responsibility over the American work force.
The appointment is likely to be contested by Democrats and labor unions because Scalia has a long record of representing employers like Walmart and questioning regulations intended to help workers. He was a former top lawyer for the Labor Department in the George W. Bush administration and is currently a partner in the Washington office of Gibson, Dunn & Crutcher.
In a post on Twitter, Trump said Scalia "has led a life of great success in the legal and labor field and is highly respected."
If confirmed, Scalia will replace Alexander Acosta, who was distrusted by anti-labor conservatives during his two and a half years in the job. He said last week that he would resign amid scrutiny of his handling of a sex crimes case involving the financier and one-time Trump friend Jeffrey Epstein when Acosta was a federal prosecutor in Florida. …
.
Eugene Scalia has Defended Wall Street, Walmart and SeaWorld; Now He's Trump's Pick for Labor Secretary
Reprinted from The Washington Post by Jeff Stein and Rachel Siegel on July 19,2019.
When a court ruled that blackjack and other card dealers at Steve Wynn's Las Vegas resorts did not have to share their tips with supervisors, the casino turned to a renowned corporate attorney in Washington: Eugene Scalia.
The son of the late Supreme Court justice successfully got the ruling reversed in Nevada's Supreme Court, forcing dealers to split their tips with floor supervisors at the casino. The casino said it wanted to share tips to improve recruitment of floor supervisors, who sometimes make less than their subordinates.
"The tips were really these workers' livelihoods," said Leon Greenberg, a Nevada attorney who represented the table dealers earning the minimum wage. "They gave them the ability to live middle-class lives, and Scalia as counsel defended the company policy that took a portion of them away." …
.
Trump Provokes Outrage with Plan to Nominate Ex-Walmart Attorney Eugene Scalia as Next Labor Secretary
Reprinted from Common Dreams by Jessica Corbett on July 19, 2019.
Workers and labor rights advocates expressed outrage after President Donald Trump announced on Twitter late Thursday that he intends to nominate former Walmart attorney Eugene Scalia—son of the late US Supreme Court Justice Antonin Scalia—to replace outgoing Labor Secretary Alex Acosta.
Less than a week after Acosta announced his resignation following days of controversy over a sweetheart plea deal he struck with alleged child rapist Jeffrey Epstein, Trump revealed his nomination plans in a pair of tweets, claiming that Scalia "has led a life of great success in the legal and labor field."
The president's announcement came as a surprise to some politicians and observers who had expected Patrick Pizzella—Acosta's deputy who is temporarily leading the Labor Department—to receive a formal nomination for the role.
Scalia reportedly accepted Trump's offer. The 55-year-old is currently a partner in the Washington, D.C. office of the corporate law firm Gibson, Dunn & Crutcher. …
Like his infamously far-right father, the younger Scalia "is a member of the Federalist Society, a conservative legal organization that has attained enormous influence within the Trump administration," The New York Times reported Thursday.
"The appointment is likely to be contested by Democrats and labor unions because Scalia has a long record of representing Walmart and other companies that pushed back against unions and tougher labor laws," The Times noted. "In 2006, he helped Walmart triumph in a prominent fight against a Maryland law that would have required companies with more than 10,000 workers to either spend at least 8 percent of their payroll costs on healthcare, or pay into a state Medicaid fund." …