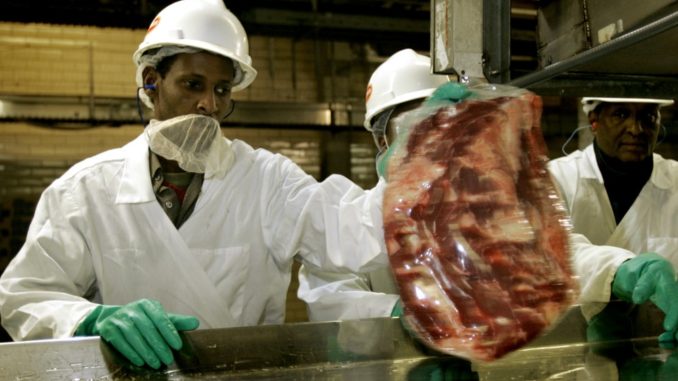 Reprinted from The New Republic by Kim Kelly on October 14, 2019.
"It was more than a century ago that Upton Sinclair went undercover in Chicago's stockyards, resulting in his reported novel The Jungle," writes Kim Kelly in The New Republic. "A blood-splattered portrait of the American meatpacking industry, it documented the misery and filth of the city's slaughterhouses, where miserable workers churned out cuts of rotten meat in treacherous, rat-infested conditions. 'The air would be full of steam, from the hot water and the hot blood, so that you could not see five feet before you,' Sinclair wrote. 'And then, with men rushing about at the speed they kept up on the killing-beds, and all with butcher-knives, like razors, in their hands well, it was to be counted as a wonder that there were not more men slaughtered than cattle…'
"We have The Jungle to thank for certain food-safety regulations today. Protections for meat-industry workers, though, would come later—and President Trump has been trying to undo even that modest progress. His administration last year authorized faster 'line speeds' (the number of animals killed per minute) for poultry plants, and began looking into doing the same for beef. New US Department of Agriculture (USDA) regulations that take effect in December will allow the same at pork plants, while also cutting 40 percent of government inspectors and delegating inspections to employees, who may not have undergone any kind of training in food safety. ….