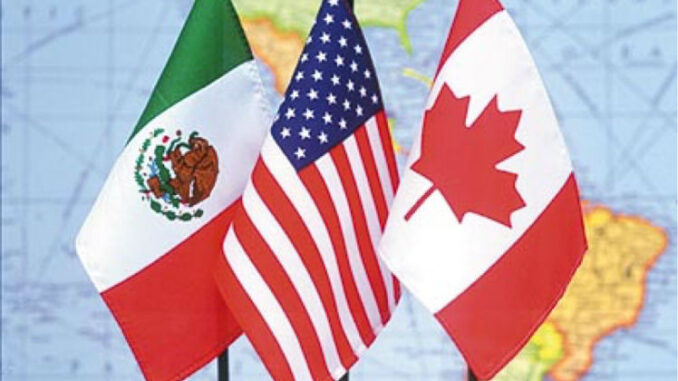 Reprinted from The New York Times by Ana Swanson on October 11, 2017.
The North American Free Trade Agreement, long a punching bag for President Trump, is edging closer toward collapse as negotiators gather for a fourth round of contentious talks here this week.
In recent weeks, the Trump administration has sparred with American businesses that support Nafta and pushed for significant changes that negotiators from Mexico and Canada say are nonstarters. All the while, the president has continued threatening to withdraw the United States from the trade agreement, which he has maligned as the worst in history.
On Wednesday, as he sat beside Prime Minister Justin Trudeau of Canada in the Oval Office, Trump again said it was "possible" that the United States would drop out of Nafta. …
Economists contend that many workers have benefited from these changes in the form of higher wages and employment, but many workers have lost their jobs as manufacturing plants relocated to Mexico or Canada, making Nafta a target of labor unions, many Democrats and a few industries. …
While some of the most powerful congressional Republicans were silent, unions, including the A.F.L.-C.I.O. and the United Steelworkers, and some Democrats, put out messages of support. …
Canada is Using NAFTA to Demand Protection for US Unions
Reprinted from The Nation by Michelle Chen on September 14, 2017.
"As unions and Big Business prepare to square off in the renegotiation of the North American Free Trade Agreement, there will be heated debate over the continental trade pact's impact on job losses and offshoring," writes Michelle Chen in The Nation in September. "But there's one major source of 'cheap labor' that isn't much talked about: America. And as Washington vows to fix what Trump calls the 'worst trade deal' ever, Canada, too, wants to fix its southern neighbor's labor laws.
"US labor has long criticized NAFTA as an enemy of unions, corroding domestic labor standards while spurring offshoring of blue-collar jobs to 'low-road' Global South nations. But, up north, Canada's unions fear exactly the same from the United States—that Washington's relatively lax regulatory regime is dragging down standards and sucking away jobs.
"So the Trudeau administration has reportedly challenged Washington to raise labor standards as part of any revamped NAFTA deal. It has demanded protections for unionization and collective-bargaining rights, and called directly for a ban on 'right to work' laws, which many states have used to dilute union power and sink wages, with spillover effects for the workforces of US trade partners. Pressured by unions, Canadian ministers seem to be leveraging labor standards to pressure Trump to make NAFTA, in theory, more beneficial for Canada's labor force by countering the 'race to the bottom.' …