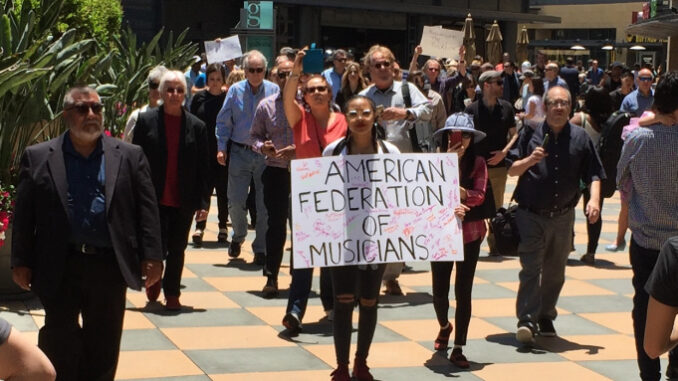 Reprinted from Deadline Hollywood by David Robb on March 30, 2020.
Trustees of the American Federation of Musicians and Employers' Pension Fund have agreed to a $26.85 million settlement of a class action lawsuit that claimed they made a series of risky investments that endangered the pensions of thousands of musicians.
"The settlement is a victory for the Trustees, as the plaintiffs failed to prove their claims that the defendants had engaged in 'risky' investment decision-making," the trustees said in announcing the settlement. "The Trustees settled because at least $17 million in proceeds from the $26.85 million settlement would be paid to the Plan by the Plan's fiduciary insurers. None of the current or former Trustees who are defendants are paying a dime. The alternative was to drag on this sideshow and allow the available insurance to be further consumed by legal fees and expenses. Recall that the plaintiffs originally sought recovery of investment losses that they estimated to be in the hundreds of millions of dollars. The plaintiffs' lawyers can pocket the balance of the settlement proceeds if it's approved—about $10 million. They are the ones who profited by using their unsupported mudslinging to push this case to the eve of trial before agreeing to settle for much less than they originally demanded."
Like many multi-employer pension plans, the AFM-EPF plan was hit hard by the recession and market downturn of 2008. But the musicians' plan was hit harder than most, losing 40% of its value in 18 months. …
Coronavirus is Making the Public Pension Crisis Even Worse
Reprinted from The New York Times by Mary Williams Walsh on April 2, 2020.
For years, the country's public pension plans have faced a yawning gap between what they owe and what they can pay.
From the State of California's public employees' retirement plan, with more than 1.6 million participants, to tiny funds for employees of local mosquito-control programs in Illinois, public pensions are the time bomb of government finance.
Now the coronavirus pandemic has it ticking faster.
Already chronically underfunded, pension programs have taken huge hits to their investment portfolios over the past month as the markets collapsed. The outbreak has also triggered widespread job losses and business closures that threaten to wipe out state and local tax revenues.
That one-two punch has staggered these funds, most of which are required by law to keep sending checks every month to about 11 million Americans. …