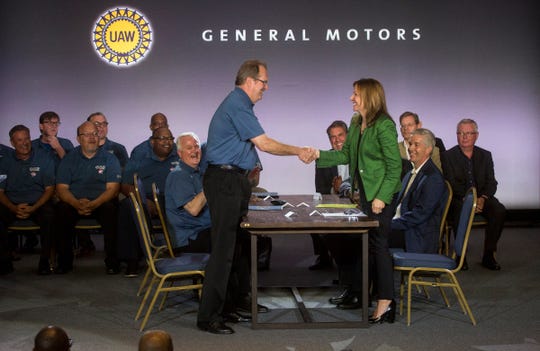 Reprinted from The New York Post by Kevin Dugan on October 5, 2019.
The United Auto Workers and General Motors tentatively reached an agreement on Tuesday to give temporary workers a clear path to becoming full-time employees, helping pave the way to ending a strike that has gone on for 30 days, The Post has learned.
GM will give all temporary workers — who make between $15 and $19 an hour and have fewer benefits — the opportunity to become full-time workers after three years of consecutive service, according to a source familiar with the negotiations.
Temporary workers not only make far less than full-time workers, they have no access to retirement benefits, fewer days in paid time off, and a less robust health care plan, the person said.
The change will also apply retroactively to all workers who have already worked on a temporary basis for more than three years, according to the source. …
UAW, GM Move Closer to Deal that Would End Strike
Reprinted from The Wall Street Journal by Mike Colias and Nora Naughton on October 15, 2019.
The United Auto Workers and General Motors Company are nearing a contract deal to end a 30-day strike at the company's factories with bargainers moving closer on earlier sticking points and leaders from each side engaging in high-level talks.
GM Chief Executive Mary Barra for the first time since the strike began met with UAW officials at the bargaining table Tuesday morning in an effort to solidify an agreement, according to people familiar with the discussions. UAW President Gary Jones also attended the bargaining session, as did GM President Mark Reuss, one of Barra's top lieutenants, the people said.
After clashing publicly last week, GM and the union made progress during lengthy bargaining sessions in recent days, working through thorny issues including wages and the pay scale for new hires, the people said. In a sign of progress, UAW leadership on Monday called union-hall officials from GM's plants across the country to Detroit for a Thursday "contract update." …
GM's CEO Returns to Talks with UAW as Strike Continues
Reprinted from The Detroit Free Press by Jamie LaReau on October 15, 2019.
General Motors on Tuesday brought the big guns to the main table in talks with the UAW.
GM CEO Mary Barra and President Mark Reuss met with UAW President Gary Jones and union lead GM negotiator Terry Dittes around 9 a.m. Tuesday, said a person close to the talks.
The meeting took place at the main bargaining table as the parties continued working to reach a tentative agreement on day 30 of the UAW's nationwide strike against GM. Also present were the bargaining committee members for both sides.
A spokesman for the union declined to comment on if there was a meeting. The company also had no comment.
Negotiators had not reached a tentative agreement, people familiar with the talks said. …
UAW Leaders Called to Meeting in Detroit, Could Signal Tentative Deal
Reprinted from ABC News in Flint, Michigan by Mark Bullion on October 14, 2019.
United Auto Workers leaders from General Motors facilities across the country have been summoned to a national meeting at the Renaissance Center in Detroit at 10 a.m. Thursday.
The meeting is a good a sign that a tentative agreement could be very close, sources say.
All local union presidents and chairmen have been called to the UAW National General Motors Council Meeting on what would be a full month after the strike started.
An agenda for the meeting posted by UAW Local 598 lists "contract update and any other agenda items to be determined." Union leaders in Mid-Michigan could not comment on whether a tentative agreement was reached. …