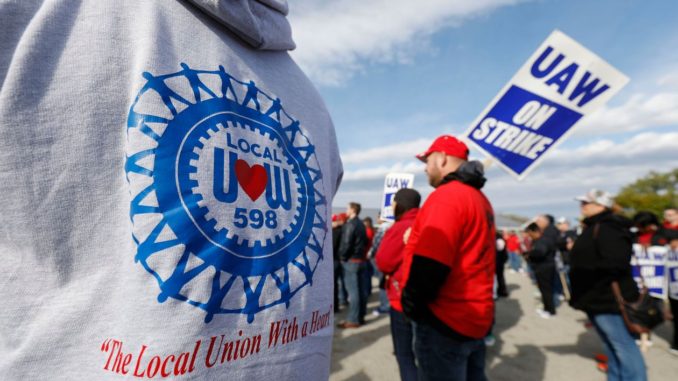 Reprinted from The Wall Street Journal by Nora Naughton and Mike Colias on October 16, 2019.
The United Auto Workers struck a tentative labor deal with General Motors Company on Wednesday, a critical step in ending a monthlong strike that has brought more than 30 GM factories in the US to a standstill.
The UAW said the agreement, covering more than 46,000 union-represented workers at GM, achieves major gains for members but declined to provide specifics.
The strike will continue for now. The decision to end it will rest with a council of union-hall leaders from GM plants across the country. Those UAW officials are set to meet in Detroit on Thursday and will vote on both whether to end the work stoppage and whether to send the tentative agreement to rank-and-file members for a ratification vote.
GM's union-represented workers must approve any labor deal by a simple majority.
If workers ratify the UAW's tentative deal, union negotiators would then turn full attention to talks at Ford Motor Co. and Fiat Chrysler Automobiles, using the GM contract as a template. …
Trumka: UAW Leads a Victory for All Working People
Reprinted from The AFL-CIO's blog Now by Richard Trumka on October 16, 2019.
"I've never felt prouder to be a union member," said AFL-CIO president Richard Trumka. "Backed by millions of brothers, sisters and friends across the country, UAW members stood together to win the fair treatment that they've earned over years of selfless sacrifice. I commend the UAW's national negotiators for standing firm to deliver on what their members demanded and hope this will bring an end to one of the most courageous fights I have ever seen.
"This is the latest victory in a wave of collective action happening across America. Working people won't allow greed to dictate our lives, and we won't tolerate a system that's been rigged against us. Bosses everywhere should take note—we're not going to take it anymore."