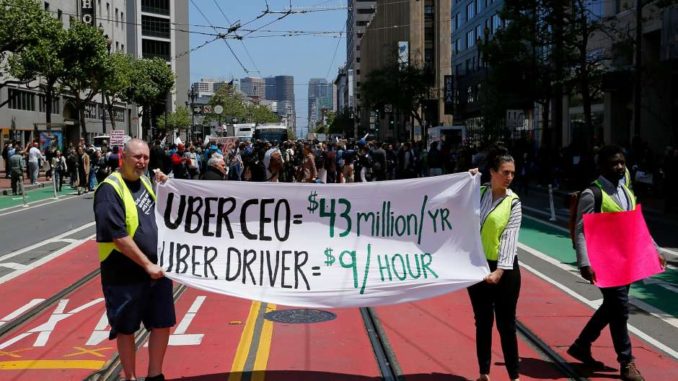 Reprinted from The New York Times by Noam Scheiber on June 29, 2019.
California's labor movement recently seemed on the verge of a new era for worker rights. A state court ruled that workers in the gig economy should have many of the protections of employment, like a minimum wage and overtime pay. And the State Assembly passed a bill codifying that ruling and adding more protections.
But any celebration was premature. Behind the scenes, a few large unions had been meeting with the giants of the ride-hailing industry, Uber and Lyft, to discuss a way to exempt drivers from full employment protections, according to union and industry officials. The talks have created deep rancor within the labor ranks and set unions against one another.
Exempting Uber and Lyft from classifying drivers as employees would provide huge savings in labor costs and allow the companies to avert what could be an existential threat to their business.
In return, Uber and Lyft — which currently classify drivers as contractors — have publicly proposed to recognize a labor organization that would represent drivers' interests on certain issues. The companies have also discussed providing drivers with benefits like retirement saving and paid time off and setting certain pay standards. …
Uber, Lyft Say Making Drivers Employees Would 'Pose a Risk to Our Businesses'
Reprinted from The Los Angeles Times by Margot Roosevelt on June 12, 2019.
Uber and Lyft launched a public campaign Wednesday to pressure California lawmakers and Governor Gavin Newsom into exempting them from pending legislation that would force them to classify drivers as employees.
The ride-hailing giants have lobbied behind the scenes for months, arguing that their drivers should retain "independent contractor" status — even as drivers in California and across the country have mounted protests over low pay and a lack of labor protections and filed thousands of lawsuits over their treatment.
"A change to the employment classification of ride-share drivers would pose a risk to our businesses," the companies declared in an opinion article published in the San Francisco Chronicle Wednesday under the bylines of Uber chief executive Dara Khosrowshahi, Lyft chief executive Logan Green and Lyft president John Zimmer.
The companies' stock prices have dropped since they went public this spring, as investors question whether they can ever make a profit.
In their op-ed, the executives suggested that rather than classifying drivers as employees they adopt "a system of worker-determined benefits — from paid time off to retirement planning to lifelong learning."
The vaguely-worded proposal did not seem to offer what labor laws give employees: a guaranteed minimum wage, overtime pay, and benefits such as sick leave, family leave, workers' compensation, disability and unemployment insurance.
And rather than allow drivers to unionize, which they could do if they are classified as employees, the companies suggested "forming a new driver association, in partnership with state lawmakers and labor groups, to represent drivers' interests." …