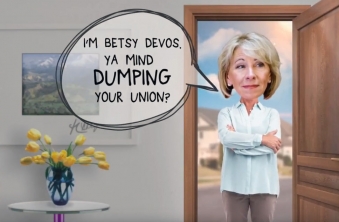 Reprinted from The United Federation of Teachers site by Suzanne Popadin on July 11, 2018.
Anti-worker forces tied to US Education Secretary Betsy DeVos and the Koch Brothers didn't waste a minute.
Teachers and other government workers in New York and neighboring states were deluged with emails about opting out of their unions immediately after the US Supreme Court's June 27 ruling that government employees who choose not to join a union may not be required to help pay for collective bargaining.
"We knew this would happen," said Kara McCormick-Lyons, the president of the White Plains Teachers Association in Westchester County. "I just didn't think it would be before the ink was dry."
Don Carlisto, the president of the teachers association in upstate Saranac Lake, eight miles from Lake Placid, said, "It's clear that this was a well-planned strategic move. And I'm sure this is the first in what will be many attempts to distance members from the union." …