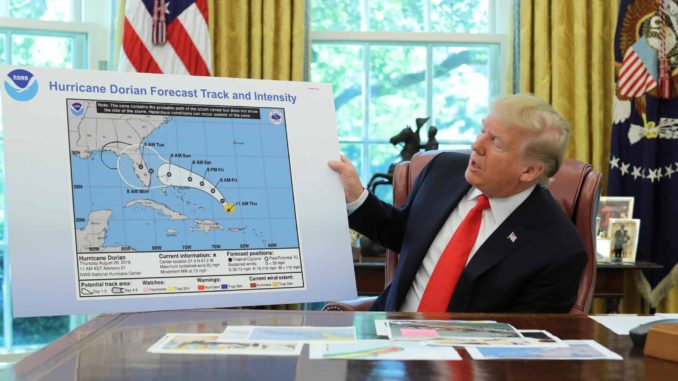 Reprinted from The Hill by Aris Folley on September 6, 2019.
The head of a national union says federal workers are "shocked, stunned and irate" over the National Oceanic and Atmospheric Administration (NOAA) siding with President Trump over its own National Weather Service (NWS) regarding the reach of Hurricane Dorian.
Dan Sobien, who heads the National Weather Service Employees Organization representing thousands of employees working under NOAA, told The Daily Beast in an interview on Friday that "never ever before has their management thrown them under the bus like this."
"These are the people risking their lives flying into hurricanes and putting out forecasts that save lives. Never before has their management undercut their scientifically sound reasoning and forecasts," Sobien continued.
"What is very important is when the NWS issues a hurricane warning or flash flood warning—it's very important [that] everyone is on the same page. It's hard enough to convince people to evacuate or take cover. If you have confusion, it could be very bad," he went on, adding, "Are people not going to believe the Hurricane Center or our forecasts now?"  …