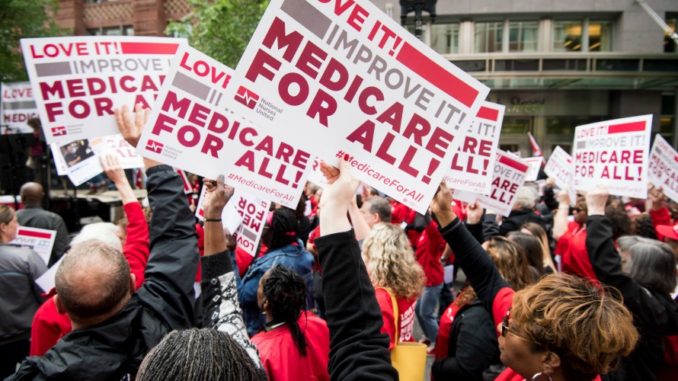 Reprinted from Common Dreams by Jake Johnson on August 2, 2019.
Leaders of some of America's largest labor unions are speaking out against centrist Democratic presidential candidates who, in an effort to undercut Medicare for All, are pitting unionized workers against millions of uninsured Americans.
Former Vice President Joe Biden, Representative Tim Ryan (D-Ohio), and former Representative John Delaney (D-Maryland) have each argued in recent days that Medicare for All would undo the hard-won collective bargaining gains of unions by replacing employer-sponsored health insurance with a single-payer program. …
HuffPost labor reporter Dave Jamieson said Service Employees International Union (SEIU) president Mary Kay Henry seemed "genuinely angered" when asked about the argument that Medicare for All would hurt union workers.
"I think it's a false choice," said Henry, "and I really resent the 16 million workers who joined together and bargained for better health plans being pitted against millions of Americans struggling to get healthcare coverage." …
Representative Pramila Jayapal (D-Washington), who herself has voiced frustration with fellow Democrats' misleading attacks on Medicare for All, thanked union leaders for "pushing back on these falsehoods" in a tweet on Thursday. …