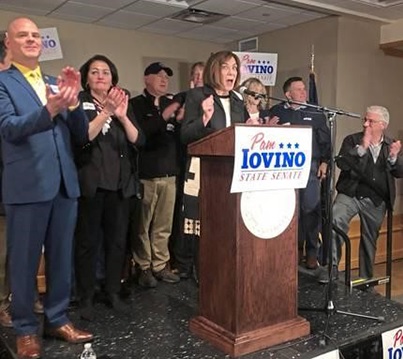 Reprinted from The AFL-CIO blog Now by its staff on April 3, 2019.
The labor movement helped elect a wave of union members and pro-worker allies across the country last night. We proved that if you support working people, we'll have your back. And we sent a resounding message to every candidate and elected official that if you seek to divide and destroy us, we'll fight back with everything we have.
The labor movement fought for our issues, union candidates and proven allies, and we filled the halls of power with our own.
We're still tracking races and results, but here are the main takeaways:
Pam Iovino (USW) flipped Pennsylvania's 37th state Senate District.
Union members Eric Genrich (AFSCME) and Satya Rhodes-Conway (AFT) were elected as the mayors of Green Bay and Madison, Wisconsin, respectively. …
Jacobin: A Socialist Wave in Chicago
Reprinted from Jacobin by Will Bloom on April 3, 2019.
Chicago socialists cleaned house in Tuesday's municipal elections, winning as many as six socialist city council members. The city's left has a historic opportunity to push back years of gentrification, police brutality, and austerity. …
After last night's runoff elections, Chicago's fifty-member city council will have at least five, and likely six, socialists who have committed to establish and join a Socialist Caucus. They will be joined by several other new left-liberal aldermen who will help make the body's Progressive Caucus one of its largest organized groups.
These victories, in which citywide organizations like United Working Families (UWF) and the Chicago Democratic Socialists of America (CDSA) played a key role, mark a sea change in Chicago. They are a rare opportunity for progressive unions, radical social movements, and resurgent socialists to demand the working class have a say in Chicago. …