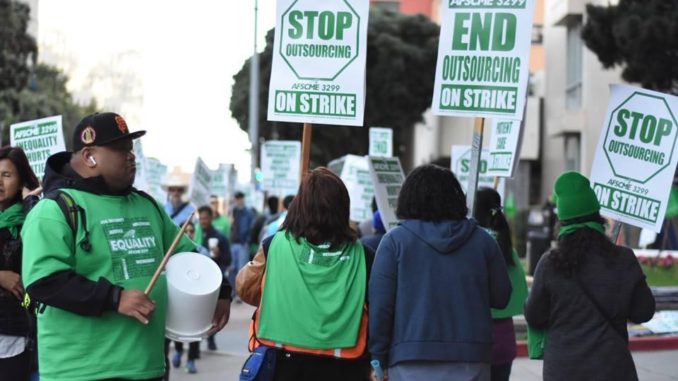 Reprinted from UPI by Daniel Uria on May 16, 2019.
Tens of thousands of workers in the statewide University of California system will strike Thursday over concerns that jobs are being outsourced, union officials said.
The one-day statewide strike will affect 10 campuses and five medical centers. It follows the filings of three claims of unfair labor practice charges against the system for entering outsourcing agreements without meeting with workers, as required by state law. The walkout will include workers of all types, from custodial employees to food workers to healthcare specialists. …
AFSCME and University Professional and Technical Employees-CWA, which represent nearly 50,000 combined workers at the university system, said they learned about several plans for officials to outsource some jobs to workers from outside contracting companies.
The unions say the UC system secretly engaged in a joint venture to contract workers through healthcare services company Kindred Healthcare and another deal with Aya Healthcare to outsource more than $150 million in clinical, non-clinical and IT jobs at all five university medical centers — UC Davis Medical Center in Sacramento, UC Irvine Medical Center in Orange County, UCLA Medical Center in Los Angeles, UC San Diego Medical Center and UCSF Medical Center in San Francisco. …