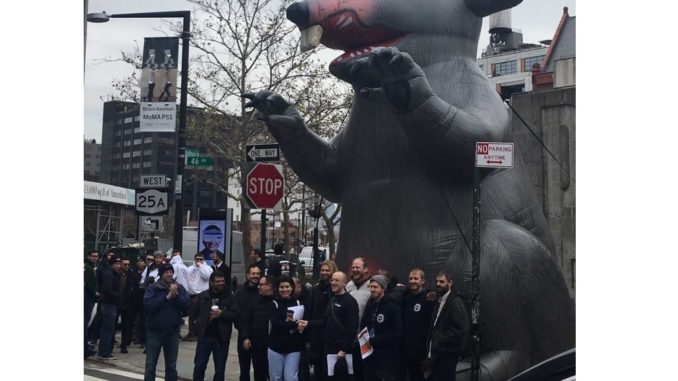 Reprinted from Hyperallergic by Ilana Novick on November 18, 2018.
On a blustery Sunday just before noon, the first visitors to MoMA PS1 in Long Island City were greeted by a giant, grey inflatable rat with sinister pink eyes. Men and women in blue sweatshirts emblazoned with "Local 30" in white letters, fanned out across Jackson Avenue, handing out fliers that said, in part, "The MoMA PS1 art installers and building maintenance crew are fighting for a fair contract that protects and improves their jobs at the museum."
This November 18th demonstration was not, as one tourist hoped, part of an exhibition, but rather, as her friend helpfully explained of the rat, "a union thing."
That "union thing" comprised of approximately 40 members of International Union of Operating Engineers Local 30, plus a revolving crowd of supporters and museumgoers gathered in front of PS1 to raise awareness of their ongoing fight for a new contract with MoMA, including hourly pay raises for the union art handlers and maintenance workers at PS1.
Their wages, workers say, are not on par with those at MoMA, despite the fact that PS1 is a MoMA satellite and the workers are all part of the same union. …