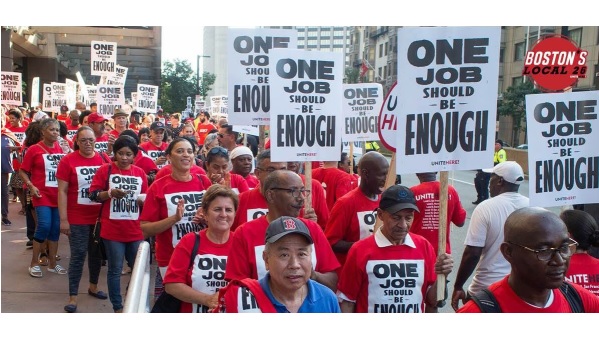 Reprinted from SBNation by Whitney McIntosh on October 22, 2018.
While in Boston for the ALDS at the beginning of October, Yankees players crossed a picket linewhile staying at the Ritz-Carlton Boston. As union members themselves, it was an incredibly bad look for the team at the time. Now, the Dodgers have done the same thing while in Boston in advance of Game 1 of the World Series against the Red Sox on Tuesday.
Hotel workers at various hotels (including the Aloft Boston Seaport District, the Element Boston Seaport District, the Ritz-Carlton Boston, the Sheraton Boston, the W Hotel Boston, the Westin Boston Waterfront, and Westin Copley Place) have been on strike since October 3rd in an effort to ensure stable hours, job stability, protections against the rise of automation, and updated sexual harassment protocols.
At the time of the Yankees ignoring the strike, it had just begun. So you could maybe forgive them for not being able to change their plans at the last minute and find space at another hotel in Boston if they didn't have a heads up about the strike.
But the strike has been ongoing for weeks now and the Dodgers knew that if they advanced past the NLCS they'd be going to Boston for multiple days before arriving in the city. …