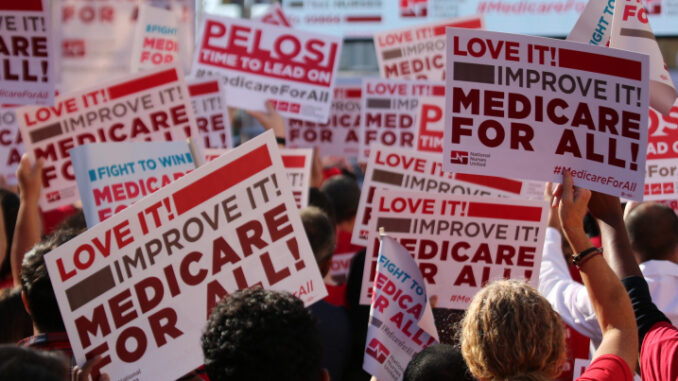 Reprinted from Labor Notes by Mark Dudzic on February 14, 2020.
"Last June at the House Ways and Means Committee Hearing on Medicare for All, Representative Kevin Brady of Texas lamented, 'That great health care plan that your union negotiated for you? It's gone. Banned under Medicare for All,'" writes Mark Dudzic in Labor Notes.
"A right-wing congressman with a 7 percent lifetime voting score from the AFL-CIO crying crocodile tears for union health care plans can easily be dismissed as just another absurdity of America's political dysfunction.
"But when Senator Joe 'The Working Man's Friend' Biden repeats the charge almost word for word, and when AFL-CIO President Rich Trumka insists—on Fox News, no less!—that 'if there isn't some way to have our plans integrated into the system, then we would not support [Medicare for All],' something is up.
"Talking points, after all, don't appear out of thin air. They're carefully crafted and disseminated by lobbyists and publicists, often on behalf of corporate interests.
"Trumka was soon joined by Teachers (AFT) President Randi Weingarten. Six months earlier she had given Medicare for All a full-throated endorsement. But in a September 23 Politico article, she walked that back in favor of a fictitious system where 'employer-based insurance would be allowed to exist to the extent that plans met or exceeded the standards set by the Medicare plan.'
"It's mind-boggling to see national labor leaders defend a system that's the biggest cause of strikes, lockouts, and concession bargaining. …
Sanders Argues 'Medicare for All' is Vital for Union Workers: 'They're Losing Wage Increases Because Cost of Healthcare is Soaring'
Reprinted from Common Dreams by Jake Johnson on February 13, 2020.
Responding to the powerful Nevada Culinary Workers Union's criticism of Medicare for All in new fliers—a critique that was readily seized upon by some 2020 Democrats—Senator Bernie Sanders on Wednesday night made the case for why achieving single-payer is so vital for union workers and everyone else in the United States.
"Many, many unions throughout this country—including some in Unite Here, and the Culinary Union is part of Unite Here—absolutely understand that we've got to move to Medicare for All," Sanders, a 2020 Democratic presidential candidate, said in an appearance on MSNBC. "And the reason is, if you talk to union negotiators, they will tell you they spend half of their time arguing against cutbacks for the healthcare that they have."
"They're losing wage increases because the cost of healthcare is soaring," Sanders continued. "When everybody in America has comprehensive healthcare, and when we join the rest of the industrialized world by guaranteeing healthcare to all people, unions can then negotiate for higher wages, better working conditions, better pensions. So I think the future for unions is through Medicare for All." …
The American Prospect: The Lessons of the Culinary Union Health Care Fight
Reprinted from The American Prospect by David Dayen on February 14, 2020.
The Las Vegas-based Culinary Union (UNITE HERE Local 226) announced Thursday afternoon that they would not endorse a candidate in the Nevada Democratic presidential primary, days after escalating attacks on Bernie Sanders over his Medicare for All plan.
"We're going to endorse our goals," said Geoconda Argüello-Kline, the union's secretary-treasurer, in a press conference Thursday. The goals include immigration reform (a majority of union members are Hispanic), living-wage jobs, and preserving the Culinary Health Plan, which the union and its members view as gold-standard coverage.
The non-endorsement ends days of rising tensions. Argüello-Kline said Wednesday that Sanders supporters "viciously attacked the Culinary Union and working families" in retaliation for their position. This sent every other candidate in the field rushing to the union's side to condemn online harassment. Sanders on Thursday sought to lower the temperature, calling on his supporters "not to engage in bullying or ugly attacks." …