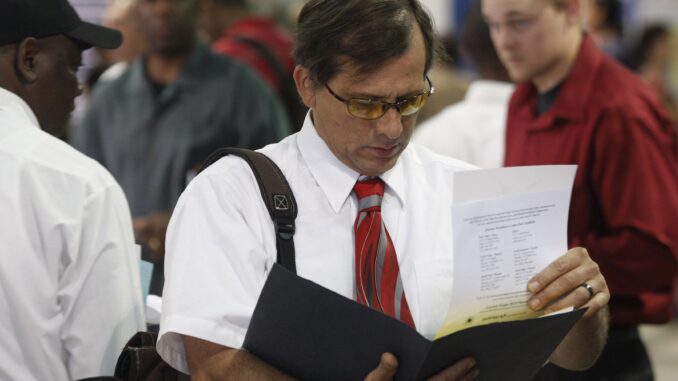 Reprinted from The New York Times by Reuters on March 10, 2017.
US job growth increased more than expected in February and wages rose steadily, which could give the Federal Reserve the green light to raise interest rates next week despite slowing economic growth.
KEY POINTS:
* Total payrolls up 235,000 vs 190,000 estimate & upwardly revised 238,000 prior (original 227,000)* Private payrolls up 227,000 vs 193,000 estimate & downwardly revised 221,000 prior (original 237,000)
* Unemployment rate down to 4.7 pct vs 4.8 pct (4.7 pct estimate)
* Average hourly earnings growth steady at 0.2 pct from upwardly revised 0.2 pct (originally 0.1 pct) …
Reprinted from The New York Times by the Associate Press on March 9, 2017.
More Americans applied for unemployment benefits last week, but claims remained low enough to suggest that most workers enjoy job security.
THE NUMBERS: The Labor Department said Thursday that applications for jobless aid rose by 20,000 to a seasonally adjusted 243,000, up from a 44-year-low 223,000 the week before. The four-week average, which is less volatile, blipped up by 2,250 to 236,500.
Overall, 2.06 million Americans are collecting unemployment checks, down more than 6 percent from a year ago.
THE TAKEAWAY: Unemployment claims are a proxy for layoffs. They have now come in below 300,000 for 105 straight weeks, longest such streak since 1970. The low level of claims suggests that employers are confident enough in the economy to be holding on to staff. …
Reprinted from The AFL-CIO blog Now by William Spriggs on March 13, 2017.
"… while wages are beginning to show growth, the share of people employed is still a significant distance from the share employed at the peak of 2007, which was below the peak of 1999," writes William Spriggs in The AFL-CIO blog Now. "This means that household incomes have not caught up. A large share of the workforce is employed part-time, and while the recovery has seen mostly growth of full-time jobs, household incomes have not gotten back to full employment levels.
… a major driver of the real economy is the automobile industry sector. After over-correcting during the depths of the Great Recession and the historic collapse in demand, it has used the financial helping hand then-President Barack Obama lent, to recover and now reach record sales and a growth in employment and investment. But a substantial and rising share of auto loans have been made to African American and Latino communities using subprime lending tools.  During the initial stages of the recovery, delinquencies on auto loans declined. But, beginning in 2016, they started to rise. And they continue to rise. …