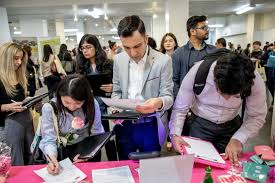 Reprinted from The New York Times by Reuters on March 9, 2018.
US job growth surged in February, recording its biggest increase in more than 1-1/2 years, but a slowdown in wage gains pointed to a gradual increase in inflation this year.
Nonfarm payrolls jumped by 313,000 jobs last month, above expectations of 200,000. The year-on-year increase in average hourly earnings dipped to 2.6 percent from 2.8 percent in January.
Comments follow…