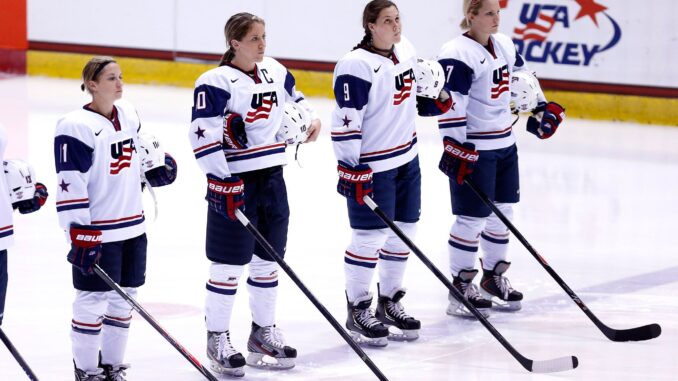 Reprinted from ESPN W by Johnette Howard on March 23, 2017.
The USA women's national hockey team held a team conference call Thursday night and voted to decline a contract counteroffer from USA Hockey, throwing their hopes of reaching a settlement back into question.
Earlier in the day, the federation also informed the team that it is reaching out to potential replacement players in case players follow through with their boycott of the world championships at the end of the month.
The players informed USA Hockey on Thursday evening that they would instead stick to the terms they and the federation discussed Monday during the 10-plus hours of face-to-face talks they held in Philadelphia in an effort to resolve their dispute over wages and the inequitable treatment the girls and women's teams receive compared to the boys and men's programs.
USA Hockey executive director Dave Ogrean had consistently called their restarted negotiations this week "productive conversations." Ogrean reiterated that in a statement the federation sent Thursday afternoon to The Associated Press, and repeated, as he has said all along, that USA Hockey's objective remained having the players originally selected for the team represent the US at the IIHF World Championships, which begin March 31 in Plymouth, Michigan. …
Reprinted from The New York Times by the Associated Press on March 23, 2017.
USA Hockey has postponed the start of the women's national team's world championship training camp amid an ongoing wage dispute. USA Hockey said the camp originally scheduled to begin Wednesday in Traverse City, Michigan, won't happen.
The organization "anticipates" a training camp in Plymouth, Michigan, site of the upcoming International Ice Hockey Federation Women's world championship.
Players announced last week that they would boycott the tournament unless they made significant progress with USA Hockey in negotiations on a labor deal. The sides met for more than 10 hours on Monday, and John Langel, a lawyer for the players, said that the next meeting would be by phone but has not been scheduled yet.
USA Hockey and players called Monday's talks "productive," and forward Jocelyne Lamoureux-Davidson said the team was "hopeful" about reaching an agreement. Without a deal, it is not clear when a potential training camp might begin or how long it would run. …