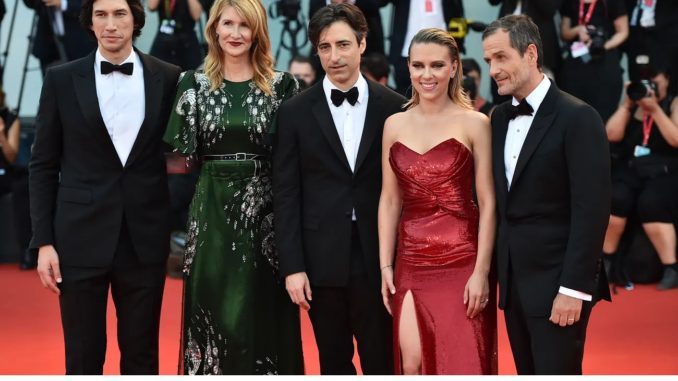 Reprinted from The Hollywood Reporter by Ariston Anderson on September 7, 2019.
Todd Phillips' Joker took home the Golden Lion top prize in Venice on Saturday night, while Roman Polanski won the second place Silver Lion Grand Jury Prize for An Officer and a Spy.
Upon receiving the prize, Phillips thanked "Warner Brothers and DC for stepping out of their comfort zone and taking such a bold swing on me and this movie."
And of the film's star Joaquin Phoenix, who joined Phillips onstage, the director said, "There is no movie without Joaquin Phoenix. Joaquin is the fiercest and brightest and most open-minded lion I know. Thank you for trusting me with your insane talent."
The 76th edition of the world's oldest film festival wrapped Saturday night after 11 nights of world premieres. This year's edition was one of the most sweltering in years, with festival-goers plagued by mosquitos and heat waves. Throngs of fans still came out to wait for a glimpse of Brad Pitt and Kristen Stewart, among others.  …
Venice Film Festival 2019 Roundup: Shocks, Horrors and Dark Jokers
Reprinted from The Manchester Guardian by Jonathan Romney on September 7, 2019.
European politics isn't predictable, so why should the film festival circuit be? This time last year, Venice pulled out a corker of a programme – Roma, The Favourite, Sunset, a posthumous Orson Welles feature – and we all said that Cannes would have to raise its game accordingly. Well, this year Cannes did raise its game, while Venice discreetly returned to being solid but less than indispensable. The 76th festival had its gems, but was short on real excitement – although, as befits our age, the real buzz came less from the films than from the social media that amassed around them.
Arguably the biggest controversy this year, providing ripples that extended beyond the Lido, came from a mainstream Hollywood production, but an unusually dark one – Todd Phillips's Joker, a sombre, arguably nihilistic spin on the Batman villain. It was a tour de force for Joaquin Phoenix, and a flamboyantly knowing tip of the hat to certain Martin Scorsese movies. The film itself was all but eclipsed by the Twitter storm it provoked – was it really a message of empowerment to incels and other embittered social outsiders? – but it is certainly one of the boldest Hollywood productions for some time.
Among the dominant flavours of Venice 2019 were despair and damnation, making this year at times quite indigestibly apocalyptic. If Joker's unalloyed bleakness was the very antithesis of superhero escapism, it was easily outdone for sheer moral and visual horror by Czech director Václav Marhoul's The Painted Bird, a near three-hour adaptation of Jerzy Kosiński's now largely forgotten 1965 bestseller, which followed a young boy on his travels through a second world war landscape resembling a medieval hell. From the word go, there was no imaginable atrocity that was not inflicted on the boy, assorted other adults and animals and, indeed, the audience (and that includes the dubbing of Harvey Keitel and Julian Sands). The film is painstakingly executed, magnificently photographed in black and white, and was much admired by some; for me, it was a grisly parody of the more authentic darkness of the Hungarian director Béla Tarr, to whom its aesthetic owes a lot. …