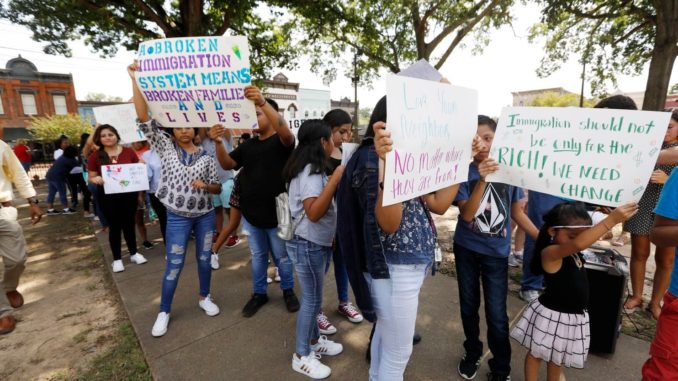 Reprinted from The Washington Post by its Editorial Board on August 11, 2019.
"The deportation sweep Wednesday by hundreds of US Immigration and Customs Enforcement agents at several food processing plants in Mississippi left a trail of tears, business jitters and widespread anxiety in places where undocumented immigrants are so tightly woven into communities that the towns would struggle to exist without them," writes The Washington Post's editorial board. "The raids inflicted predictable suffering — especially among children whose parents were suddenly carted off — to such a degree that just 24 hours afterward, ICE had released some 300 of the 680 migrants it had arrested, including those who had no criminal records.
"President Trump, whose own family business has for many years employed migrants who entered the country illegally , pronounced the Mississippi action a 'very good deterrent' to unauthorized immigration. The evidence for that assertion is nil. Still, the sweep provided some useful reminders, not least that the United States cannot deport its way out of a dysfunctional immigration system.
"First, the raids underline American agriculture's deep dependency on undocumented workers, who in 2014 accounted for 17 percent of employees in the sector — and considerably more than that on farms and in many food processing plants. Little wonder that plant managers and local residents in towns targeted by ICE last week worried that the raids would sap their businesses and vitality. …
After Mississippi ICE Raids, Job Fair Draws Hopeful Workers
Reprinted from The New York Times by The Associated Press on August 12, 2019.
Days after immigration agents arrested 680 Latino workers in a massive workplace sting at seven Mississippi chicken processing plants, job seekers flocked to an employment fair Monday in hopes of filling some of those now-empty positions.
Koch Foods, based near Chicago, held the job fair to recruit new workers at one of its Morton plants, after Immigration and Customs Enforcement agents on Wednesday arrested 243 workers suspected of working without legal authorization.
By 10 a.m., a crowd of dozens was on hand, and steady stream of people came and went. Most were black and spoke with accents from the American South. A few appeared white or Hispanic.
While the raids at seven plants were unprecedented, chicken processing facilities are normally plagued by heavy turnover and ravenously seek employees. Koch spokesman Jim Gilliland said Monday that job fairs are a "frequent occurrence." …
Eddie Nicholson Jr. of Louisville, among Monday's applicants at a state employment service office in Forest, was more succinct: "They hire anybody." …