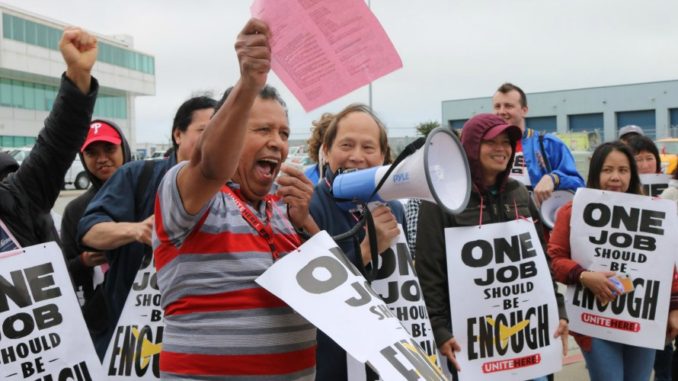 Reprinted from Common Dreams by Jake Johnson on August 13, 2019.
More than 50 unionized catering workers were arrested at American Airlines headquarters in Fort Worth, Texas on Tuesday as hundreds rallied to protest poverty wages and meager benefits.
"Bad insurance, lousy pay, this is how your food is made," chanted the workers, who are employed by subcontractors LSG Sky Chefs and Gate Gourmet. American Airlines is Sky Chefs' largest customer.
Unite Here, the union that represents the protesting workers, said in a report released ahead of the demonstration that "wages for catering workers at American's most profitable hubs are among the lowest in the country." …
Senator Bernie Sanders (I-Vermont), a 2020 Democratic presidential candidate, applauded the catering workers for standing up and "challenging corporate greed" in a tweet on Tuesday.
"In recent years American Airlines has made billions in profits," said Sanders. "It is unconscionable that their workers cannot afford good healthcare or get reliable raises." …