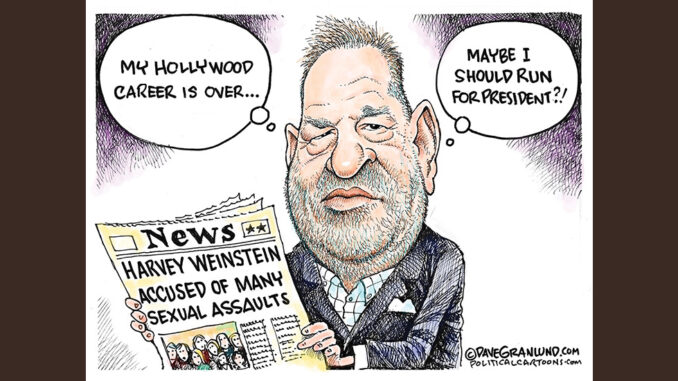 compiled by Jeff Burman
Sexual misconduct charges against Oscar-winning producer Harvey Weinstein began in early October, when the board of The Weinstein Company, which he founded with his brother Bob, dismissed him after lurid complaints about his behavior — going back decades — emerged in The New York Times and The New Yorker. With each passing week, Weinstein has been joined by others in an increasing cavalcade of disgraced Hollywood men (James Toback, Andy Dick, Brett Ratner, Roy Price, David Guillod, Kevin Spacey, Louis C.K., Jeffrey Tambor…) as allegations continue to surface.
The union that represents many of those directly affected by Weinstein's abuses, SAG-AFTRA, quickly condemned his alleged harassment and went further, calling the practice prevalent. The Academy of Motion Picture Arts and Sciences expelled Weinstein, saying, "The era of willful ignorance and shameful complicity in sexually predatory behavior and workplace harassment in our industry is over." AMPAS also banned him for life from the organization. The Producers Guild and the Television Academy also banished Weinstein in late October and early November, respectively.
Our union, IATSE, condemned sexual discrimination and harassment, saying that it "advocates for respectful work environments and adheres to anti-harassment, anti-discrimination and anti-bullying workplaces."
In mid-October, LucasFilm executive Kathleen Kennedy suggested a remedy for the "terrible and terrifying stories of sexual harassment and assault in the film industry that have dominated the news." She suggested the establishment of a commission to change the culture of Hollywood, with "zero-tolerance policies for abusive behavior and a secure, reliable, unimpeachable system in which victims of abuse can report what's happened to them with a confident expectation that action will be taken, without placing their employment, reputation and career at risk."
Clearly what's called for is a programmatic, industry-wide standard of accountability to address the culture of fear and abuse long acknowledged as an "open secret." This is exactly the kind of abuse of power that trade unions are well suited to handle. Historically, unions have taken a stand against dangerous workplaces, and exploitation through abusive schedules and low pay. Sexual harassment should be no different.
At press time, New York prosecutors were developing "a strong criminal case" against Weinstein.
Reagan to be Inducted into Labor's Hall of Honor?
"Isn't it weird that someone who could contend for the title of America's Greatest Union Buster will be inducted into the Labor Department's Hall of Honor?" writes Joe Davidson in The Washington Post in mid-September.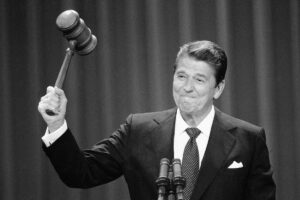 The union representing Labor Department employees says honoring former President Ronald Reagan is "shocking." President Donald Trump's second Labor Department Secretary, Alexander Acosta, thinks inducting Reagan is a wonderful idea. So does the Sergeants Benevolent Association of New York City, the union that suggested he be so honored. No date for the induction has been proposed.
"Well before he led this nation, Ronald Reagan led the Screen Actors Guild during its first three strikes," Acosta explained when he announced the planned induction at the Ronald Reagan Presidential Library in August. "As President of the Screen Actors Guild, President Reagan negotiated never-before-seen concessions for SAG members, which included residual payments and health and pension benefits. As President of this nation, Ronald Reagan continued to recognize the contributions of unions to a free society. His support for Solidarity in Poland prompted a flourishing of freedom that ultimately led to the collapse of Communism."
Inexplicably, Acosta's statement didn't mention a word of Reagan's role in breaking the Professional Air Traffic Controllers Organization (PATCO). In 1981, he fired more than 11,300 air traffic controllers when they refused to end an "illegal strike." At the time, PATCO was decertified by the Federal Labor Relations Authority. When it comes to his lasting effect on labor organizations, Reagan's presidential actions overshadow his work with the Screen Actors Guild.
Canadians Use NAFTA to Attack 'Right to Work'
After almost a quarter of a century, the North American Free Trade Agreement is facing re-negotiation, writes Celeste Drake for the AFL-CIO's blog Now in mid-September. Officially, the AFL-CIO approves of a new negotiation, having opposed NAFTA from the start.
NAFTA is considered a "trade deal," but it's really a collection of rules that give corporations greater power over the three economies of North America. It gives companies the ability to undermine laws and rules that protect American workers. It made it easier for US employers to close workplaces and move to Mexico. And once the companies move, NAFTA's rules don't protect workers' rights and freedoms.
Recent NAFTA negotiations are moving along slowly. It is too soon to say whether the reforms will bring a "New Economic Deal" to working people, or simply enhance existing crony capitalism. Having said this, there was a surprising development recently.
The Canadian negotiating team told US negotiators that US laws that "interfere with people's freedom to negotiate" on the job are undermining standards for Canada and should be abolished. The AFL-CIO's response? Canada is right.
These laws — commonly known as "right to work" laws — are an example of the wealthiest one percent fixing the rules to undermine the ability of people to come together as a union and negotiate with employers for better pay, benefits and working conditions. It should come as no surprise, but states with these freedom-suppressing laws have lower wages and experience a pushing down of workplace standards for themselves, and for workers in other states. Not surprisingly, this affects Canada, too.
News Websites Shut Down After Vote to Unionize
In late October, reporters and editors in the combined newsroom of DNAinfo and Gothamist, two of New York City's leading digital publishers of local news, celebrated a victory after their vote to join the Writers Guild of America, East, write Andrew Newman and John Leland in The New York Times.
A week later they lost their jobs, as Joe Ricketts, the billionaire founder of TD Ameritrade who owned the news sites, shut them both down. A post by Ricketts explained the decision. He praised the staff for reporting "thousands of stories that have informed, impacted and inspired millions of people." But he then added, "DNAinfo is, at the end of the day, a business, and businesses need to be economically successful if they are to endure."
The decision puts 115 people out of work, both at the New York office that unionized and at offices in Chicago, Los Angeles, San Francisco and Washington, DC that did not. They are receiving three months of paid leave at full salary, plus four weeks of severance.
Before the vote, DNAinfo's chief operating officer sent the staff an e-mail asking if a union might be "the final straw that caused the business to close." Ricketts said, "As long as it's my money that's paying for everything, I intend to be the one making the decisions about the direction of the business."
In mid-November, the WGAe announced that the union won "substantial gains beyond the initial offer made by management" for workers who lost their jobs when Ricketts took the sites offline, including being able to use work previously produced for DNAinfo or Gothamist.
NC's Labor Federation Elects First Woman President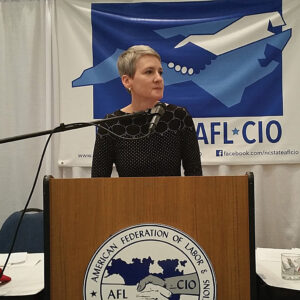 MaryBe McMillan became the first woman to lead the AFL-CIO in North Carolina after being unanimously elected president of the state's AFL-CIO during its 60th annual convention in early September. She had served as secretary-treasurer of the state labor federation since 2005, and was a leader in the cause of getting national and international unions to invest in and organize in the South — no small task.
Before starting her career in the labor movement, McMillan worked with housekeepers trying to organize at North Carolina State University and, after receiving an advanced degree in sociology, did public policy research for a number of progressive non-profits.
In 2004, she was chosen to work at the AFL-CIO's Union Community Fund, where she got to know North Carolina State AFL-CIO President James Andrews. There, she began a 12-year partnership fighting for working families in the state.
Aviators Warn of Privatizing Air Traffic Control
The leader of an association representing more than 11,000 aviation-related businesses is telling its members to oppose a House of Representatives bill that would effectively privatize the air traffic control industry in the United States and put it under the control of major commercial airlines, writes William Westhoven in USA Today in early September.
"We are a good industry, we are an essential industry and we are under attack," said National Business Aviation Association President and CEO Ed Bolen, speaking at an NBAA Regional Forum at Morristown Municipal Airport in New Jersey. "We need to make our voices heard."
The forum, which took place at a "general-aviation reliever airport" favored by President Trump for weekend flights from Washington to his golf club in Bedminster, attracted about 2,100 attendees with ties to the business-aviation community for a day of networking and presentations by 140 exhibitors.
It also provided a platform for NBAA president Bolen to rally opposition to HR 2997, also known as the 21st Century Aviation Innovation, Reform and Reauthorization Act, which would reassign the operation of air traffic services currently provided by the Federal Aviation Administration to a separate not-for-profit corporate entity.
Summers: Balance Workers' and Employers' Power
"The central issue in American politics is the economic security of the middle class and their sense of opportunity for their children," writes Lawrence Summers in The Washington Post. "As long as a substantial majority of American adults believe that their children will not live as well as they did, our politics will remain bitter and divisive."
Middle-class anxiety is clearly related to the slow growth of wages in this, the ninth year of economic recovery. The Phillips Curve — which suggests that tighter labor markets lead to an acceleration of wage growth — seems to have broken down. Unemployment is at historically low levels, but the Bureau of Labor Statistics reported that average hourly earnings in August rose by all of three cents — a little more than a tenth of one-percent bump. For the past year, earnings rose by only 2.5 percent. In stark contrast, profits of the S&P 500 are rising at a 16 percent annual rate.
How does that make sense? Economists don't know. In part, there are inevitable year-to-year fluctuations (profits have declined in recent years). And in part, BLS data reflects wages earned in the United States, even though a bit less than half of profits are earned abroad. Some of these profits have become more valuable as the dollar has declined compared to other currencies. And finally, wages have failed to rise because a strengthening labor market has drawn more workers into the labor force.
"I suspect the most important factor is that employers have gained bargaining power over wages while workers have lost it," adds Summers.