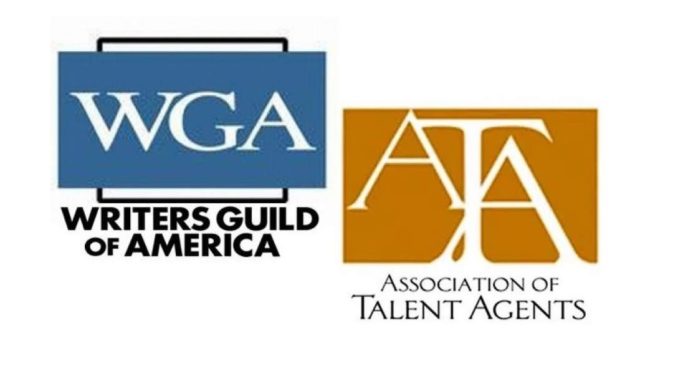 Reprinted from Deadline Hollywood by Patrick Hipes on December 27, 2019.
The long standoff between the WGA and the Big Three talent agencies could go on much longer. The two sides in a court filing Friday have proposed a trial start date of March 2021 for their legal showdown that has already lasted more than eight months.
The filing, which includes a scheduling worksheet (read it here) that suggests the trial could last 20 days, comes after US District Court Judge Andre Birotte Jr. earlier this month indicated he'll refuse to throw out the federal antitrust lawsuits filed by the agencies — CAA, WME and UTA — against the Writers Guild of America.
A scheduling conference in the case is set for January 10.
The legal battle stems from the WGA ordering of its members in April of this year to fire their agents en masse who refused to sign its Code of Conduct, which originally banned packaging fees and agency affiliations with related production entities. Since then, the guild has modified its code to allow signatory agencies to continue packaging until January 22, 2021 – and even longer if it doesn't get two of the Big Four agencies to sign up. The latest version of the guild's deal also allows agencies to own up to 5% of an affiliated production entity. …
TAP: How Private Equity Ate Hollywood—and Why Writers are Fighting Back
Reprinted from The American Prospect by David Dayen on April 16, 2019.
"Hollywood is smoldering this week," wrote David Dayen in The American Prospect in April, "after the 13,000 members of the Writers Guild of America (WGA) prepared to fire their agents, the upshot of the termination of a 43-year-old agreement between the union and the Association of Talent Agents trade group. On Saturday, the WGA ordered members to part ways with agents who didn't subscribe to a revised code of conduct, which rank-and-file writers approved with 95.3 percent support. The form letters informing agents of their firing, which well-known writers have been posting on Twitter, will be delivered later this week.
"This isn't a strike or lockout; as much as you might like your favorite television shows to pause to catch up on your DVR, they will in all likelihood continue with minimal disruption. But the battle between writers and agents represents another example of the monopolization and financialization of our economy, and how organized, unified workers can fight back.
"The WGA laid this out in a remarkable report last month, showing how institutional investors—mainly private equity—have bought into the three largest talent agencies, to the tune of billions of dollars. These three agencies—Creative Artists Agency (CAA), William Morris Endeavor (WME), and United Talent Agency (UTA)—are responsible for 70 percent of WGA members' earnings.
"Private equity firm TPG Capital now has a 53 percent stake in CAA, investing $340 million in the agency. Another $100 million in investment comes from a consortium of Chinese and Singaporean sovereign wealth funds and the telecommunications firm Taiwan Mobile. Silver Lake Partners, another private equity firm, has invested $750 million in WME, with another $1.8 billion in WME equity stakes passed around to the sovereign wealth funds of Saudi Arabia and Singapore, a Canadian pension fund, Chinese investor Tencent, Japanese fund SoftBank, and more. UTA gave a 40 percent stake to the private equity firm Investcorp and Canadian pension fund PSP Investments for $200 million last August. …