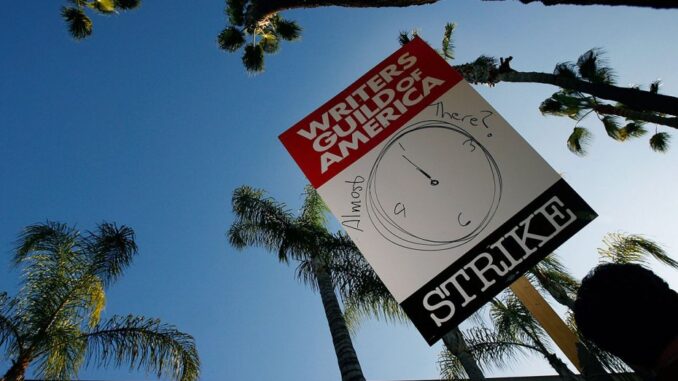 Reprinted from Deadline Hollywood by David Robb on April 25, 2017.
Armed with strike authorization, WGA leaders return to the bargaining table Wednesday for the final push to reach an agreement with management's AMPTP on terms for a new film and TV contract. Both sides have pledged to do everything in their power to avert a strike.
Buoyed by an overwhelming show of support for their bargaining position – only 237 writers voted against strike authorization – WGA leaders are expected to hold the line this week on their prime objectives: to save the guild's ailing health plan, which faces projected deficits of $145 million over the next three years, and to improve the lot of TV writer-producers, who the guild says have seen their average salaries fall by 23% over the last two years, largely because of shortened seasons brought about by a sea change in the TV industry's business model.
But according to the WGA West's own records, the average TV earnings of its members actually are on the rise. In 2015, the average TV writer earned nearly $50,000 more than in 2006, nearly $60,000 more than during the strike-shortened 2007, and nearly $20,000 more than in 2010. Average earnings — the amount earned by TV writers divided by the number of TV writers with earnings — in 2015 dipped $3,000 from a high of $197,000 in both 2012 and 2014, but the overall trend has been upward. …
Reprinted from The Hollywood Reporter by Jonathan Handel on April 25, 2017.
It's difficult to see how a multi-hundred million dollar gap will be bridged prior to the May 1 contract expiration, but on an issue-by-issue basis, the parties have moved closer.
As talks between the Writers Guild of America and the Alliance of Motion Picture and Television Producers resumed Tuesday, two divergent paths have come into sharp focus: In one direction lies a strike as early as May 2 by a guild emboldened by an overwhelming 96.3 percent strike authorization tally achieved Monday, while down the other path lies a deal that the two sides have been edging towards inside the bargaining room.
That latter journey takes places behind closed doors, but sources provided The Hollywood Reporter with detailed descriptions of the latest offer made by the AMPTP and the WGA's responses. Talks were suspended April 17. …
When THR last looked at the parties' positions, they were $350 million apart, with the writers looking for what they described as a $535 million deal and the studios more inclined to reach an agreement valued in the neighborhood of $180 million, according to an analysis and a source. That's a ratio of 3-to-1. …