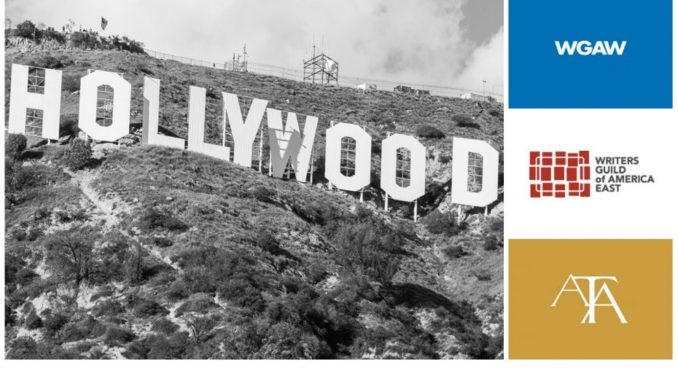 Reprinted from Deadline Hollywood by David Robb on August 19, 2019.
The WGA East and WGA West have dropped their lawsuit against the Big 4 talent agencies, and have answered and filed counter-claims in the federal antitrust case that CAA, WME and UTA brought against the guild. Click the link below to read the counterclaims.
The guild filed its original suit on April 17 in Los Angeles Superior Court, claiming that packaging fees violate California's fiduciary duty and unfair competition laws. The Big 4 agencies — UTA, CAA, WME and ICM Partners —  filed their antitrust lawsuits against the WGA in June, claiming the guild is engaging in an "unlawful group boycott." Those suits were filed in U.S. District Court in Los Angeles.
"Over the years the major agencies have repeatedly broken federal antitrust law by conspiring to fix the price of packaging fees," WGA West president David A. Goodman said Monday. "Their current campaign to preserve the packaging fee model by strong-arming smaller agencies also violates the law. We are simply asking the court to stop these agencies from illegally enriching themselves at the expense of writers." …
Writers Guild Moves Agency Lawsuit to Federal Court, Adds Racketeering and Antitrust Claims
Reprinted from The Hollywood Reporter by Jonathan Handel on August 19, 2019.
The Writers Guild of America on Monday dismissed its state court lawsuit against the Big Four talent agencies and refiled similar allegations and more in federal court against the top three firms, expanding an already bitter fight.
The new filings include antitrust claims and explosive allegations of racketeering against the agencies under a law known as RICO that is more commonly deployed against organized crime.
The target of the WGA filings is packaging fees, an agency practice in which talent firms are paid by studios and production companies rather than commissioning their clients. The filings also respond to and deny the antitrust claims brought against the guild by the three agencies. WME, CAA, UTA and ICM Partners were the defendants in state court, while the federal counter-defendants are the first three firms only. …
Writers Union Says Talent Agents are Violating Antitrust Law
Reprinted from The San Francisco Chronicle by Andrew Dalton on August 19, 2019.
The Writers Guild of America filed claims Monday in federal court alleging the entertainment industry's biggest talent agencies are violating antitrust and anti-racketeering laws, the latest move in a long and heated battle between those who write scripts and the agents who represent them.
The filings are a response to lawsuits filed by three agencies in recent months alleging the Writers Guild has itself violated antitrust law with organized actions in the dispute, including the mass firing of agents by thousands of writers in April.
At issue are so-called packaging fees, where talent agencies combine elements including writers, scripts or actors — most often on television series — and sell them directly to studios as a unit.
Writers have long held that the practice, common for decades in Hollywood, takes money that should rightfully be theirs and puts it in agents' pockets. They are now saying that it violates federal law, in part by agents taking money directly from studios before the writers see it. …