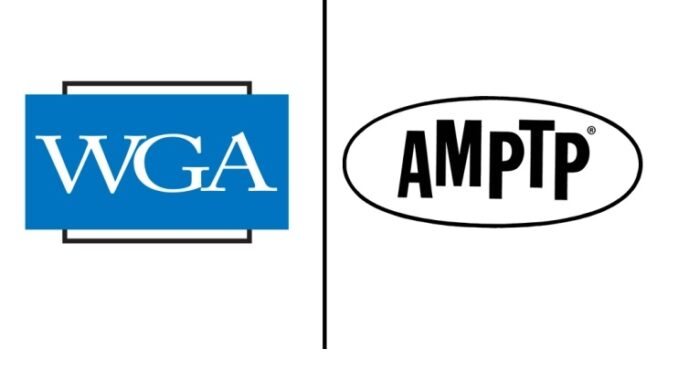 Reprinted from The Hollywood Reporter by Jonathan Handel on March 24, 2020.
The Writers Guild of America advised its members Tuesday that previously scheduled bargaining for a new contract with the Alliance of Motion Picture and Television Producers, which did not commence as scheduled Monday, has been upended by the coronavirus.
The existing agreement expires May 1.
"Given the current health crisis we cannot effectively negotiate this important three-year agreement in our usual fashion," the guild's negotiating committee wrote in an email. "It may not be possible to conclude a new contract by May 1st, nor will we be asking you for a strike authorization vote in the interim. Even if no new contract is in place by May 1st, writers can continue working under the 2017 agreement."
The guild added, "We are discussing several options with the companies, including a potential contract extension, but we think it is most sensible to continue to evaluate the constantly – it seems hourly – changing situation before making a decision about the most strategically optimal way forward. This is not a time for rash decisions or pressured outcomes. Instead we are conferring with public health authorities, financial analysts, other guilds and unions, legislators, benefit fund experts and others to gather information as the situation continues to evolve." …
WGA Postpones Negotiations for New Film and TV Contract Amid Coronavirus Shutdown
Reprinted from Deadline Hollywood by David Robb on March 23, 2020.
Negotiations scheduled to begin Monday for a new WGA film and TV contract have been postponed because of the industry's coronavirus shutdown.
The guild and management's Alliance of Motion Picture and Television Producers have been talking about when and how they can move forward, even though film and TV production has ground to a halt and movie theaters are shuttered all across the country. The guild's current contract expires May 1 but probably will be extended until after the pandemic abates.
If they decide to proceed with talks in the near future, it almost certainly will have to be done remotely; the WGA's negotiating committee has 36 members, and management usually brings dozens of attorneys and studio business affairs and labor relations executives to the bargaining table. In the past, they'd all meet in one room at the AMPTP's offices in Sherman Oaks – but social distancing will prohibit that. …