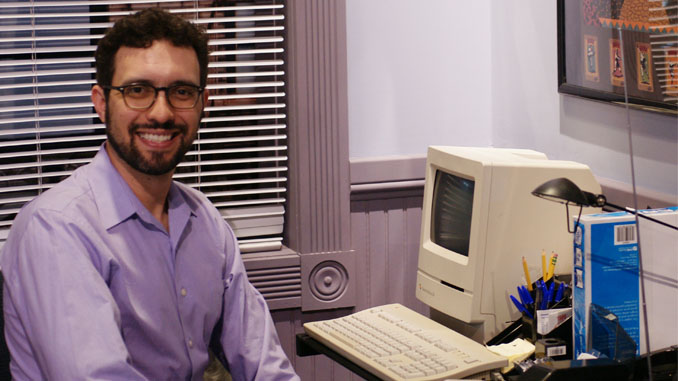 Where are you currently employed?
I currently work as a metadata analyst for Sony Pictures Content Licensing.
Describe Your Job.
As a metadata analyst, it is my job to curate the metadata around Sony's stock footage, film catalog and internal databases to make our content more discoverable for reuse. This means that I get to work on a lot of different projects that are always changing.
Some days I go through the dailies of a television show looking for stock footage that can be sold to another show. Other days I help with film clip research requests by scrubbing through a dozen movies looking for that perfect iconic moment. Pretty much every theatrical feature film at Sony is sent to my department before home entertainment release. We watch the movies and create scene-by-scene descriptions to make our favorite moments easier to find.
We also create metadata for use internally. Right now, we are working on a special project where we are watching every episode of the current run of Wheel of Fortune from the beginning to add these archival episodes to the current production database. We've already completed this project for Jeopardy!
How did you first become interested in this line of work?
I first became interested in movies when I was a very little kid watching Looney Tunes on TV. I knew that some of the jokes were about old movies I hadn't seen, so as I got older I tried to figure out what they all were. This was back in the heyday of the art house video store, and I was lucky enough to live in a college town that had several, so a large portion of my youth was spent watching classic movies. At the same time, I developed a very deep love for photography, and I was always trying to get my hands on film, which soon turned into Super-8mm and video.
I also worked as a projectionist at a movie theatre in high school and as a manager of a video store while I was in film school. Later when I lived in New York, I worked as a non-union editor and I worked in a classic film photography archive. I also helped create a media archive for the Rhine Research Center, a famous paranormal research center in North Carolina. Stock footage felt like a natural fit for me, because I had experience with different film and video formats, as well as a love for working with large collections of film materials.
Who gave you your first break?
I actually found out about my current job as I was in the process of moving from New York to Los Angeles. I was driving somewhere in the middle of the country with all my stuff when I got an alumni newsletter e-mail about the job opening. I applied while on the road, went to the job interview the day after I arrived in Los Angeles, and I've been working there ever since.
What was your first union job?
My current job. I was unionized as a part of an arbitration settlement between Sony and Local 700. Before the settlement, I was a non-union temp with no benefits. Now I have real health insurance and a pension plan, which is something that seemed very far away when I was working as a non-union editor. I'm also a Member at Large on the Editors Guild Board of Directors.
What was the most fun you've had at work?
My job has been a real education in filmmaking because it allows me to experience the creation of cinematic form from many different angles. Not only do I get to see all the footage that doesn't make it into the film, I also have to analyze the film itself on a frame-by-frame basis. At one point, we had a special project where we conformed old subtitle files to the new edited-for-television video files. I watched 50 episodes of Hart to Hart, and really developed an eye for unnecessary lines of dialogue. I think that it's made me a better writer and a better filmmaker.
Jobwise, what do you hope to be doing five years from now?
Hopefully, I'll still working at Sony Pictures Content Licensing. I've also written a feature film and I'm planning to make a short based on it in the next year or so.
Which of your credits or projects have made you the most proud and why?
The projects I'm most proud of are my six-year-old daughter and my three-year-old son.
What are your outside activities, hobbies, passions?
I think the best part of living in Los Angeles is all the incredible film screenings and archival gems that aren't shown anywhere else. This year, I saw a projected Technicolor nitrate print for the first time, and I felt like I finally understood a form of cinematography I had studied my whole life. The great part about movies is that there are always more of them, and there's always more to learn about how to make them.
I also love camping and traveling, which always give me a good excuse to break out a funny old camera.
Favorite movie(s)? Why?
The Maltese Falcon — because that's the movie that really made me want to see every classic film that I could lay my hands on.
Favorite TV program(s)? Why?
Mister Rogers' Neighborhood. Speedy Deliveryman Mr. McFeely's documentaries on the show were my first exposure to the concept of filmmaking as something you could do yourself. He also gave me an important lesson about not quitting your day job. Muppet Babies must have given me an early love of stock footage and film clips. Mystery Science Theater 3000 and Joe Bob's Drive-In Theater developed my love for B-movies. Bob's Burgers is my favorite show that's on today.
What advice would you offer to someone interested in pursuing your line of work?
I think the secret to survival in general is to always be learning and willing to try new things.
Is there anything you'd like to say to your fellow Guild members, some words of encouragement?
Never underestimate the value of your labor. Every day we see billions of corporate dollars consolidating around intellectual property. The future will be based around information and our collective artistic endeavor is the portal through which this information takes its final form. No one stands to benefit more from this future than we do. The only things that limit us are our fear and lack of imagination.
Compiled by Edward Landler
Photo Jeff Schuman                      
 Editor's Note: To recommend a member (including yourself) to be featured on CineMontage.org, and the home page of the Editors Guild website, please contact edlandler@roadrunner.com.