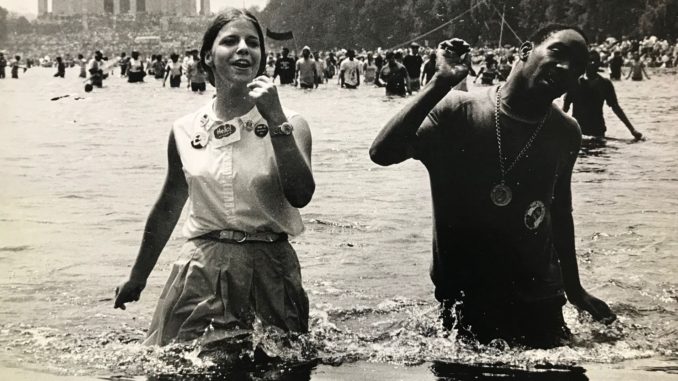 Reprinted from The Washington Post by Manuel Roig-Franzia on May 27, 2018.
… Two dancing figures appeared in the viewfinder of his little Pentax camera. A young white woman. A young black man. Not much older than him. They sloshed through the Reflecting Pool amid the joyous, rebellious chaos of the weeks-long Poor People's Campaign demonstration that overtook the Mall in May and June of 1968.
And they were singing.
"Amen. Ay-ay-men. Amen. Amen. Amen."
Words flashed through Richard Bensinger's mind. "Freedom." "Love." He tapped the shutter, freezing a moment of hope, of promise. In the image that he would later watch come to life in a darkroom, he saw two young people who embody an easy, natural joy as they wade waist-deep through the placid waters. Somehow, the hobbyist photographer had them perfectly centered. Apart from hundreds of demonstrators making the same soggy trek, but not separated in spirit. In the background, the Lincoln Memorial rises in the haze of a sticky Washington spring. …
EPI: 50 Years after the Poor People's Campaign, Poverty Persists Because of a Stingy Safety Net and a Dysfunctional Labor Market
Reprinted from The Economic Policy Institute byElise Gould and Jessica Schieder on May 24, 2018.
As part of the commemoration of the 50th anniversary of the Poor People's Campaign, organizers are shedding light on the challenges faced by those who are most in need. Last week, EPI began our snapshot series to help readers understand the challenges surrounding poverty that remain today. We illustrated the progress made in reducing poverty since 1968, particularly among the elderly, and stressed that significant racial disparities remain.
Today, we are taking a closer look at those who fall below the official poverty line. While in our last post, we focused on the elderly, who saw great improvements in poverty reduction over the last 50 years, and children, the age group with the highest poverty rates today, here we look specifically at adults 18–64 years old. The share of these non-elderly adults in poverty rose from 9.0 percent in 1968 to 11.6 percent in 2016. …