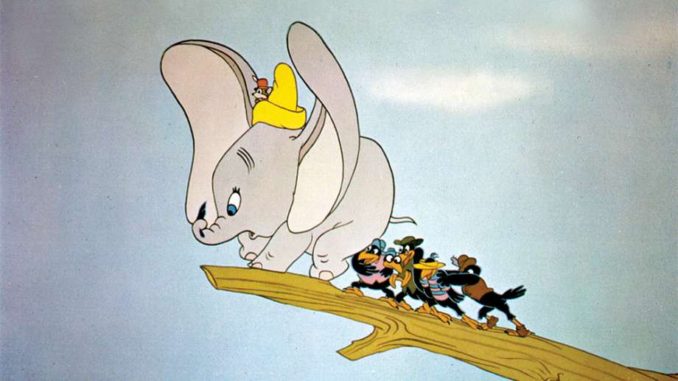 Reprinted from The San Francisco Chronicle by Tim Gray on March 15, 2019.
Tim Burton's live-action Dumbo launches March 29, a remake of the Disney classic that opened October 23, 1941. That film is remembered as one of Disney's shortest (64 minutes) and sweetest. It should also be remembered as the animated movie that launched Disney's studio in Burbank — and one that was completed in the midst of a tense animators strike. In the 1930s, Disney animators were working at five Los Angeles locations; on December 2, 1940, Variety said the high cost of the studio's first three animated movies was due to a "lack of facilities to properly push production." The cost of Dumbo was estimated at $1 million, about half of the earlier pictures. The film's brief running time may have been due to budget or the fact that animators staged a five-week walkout during production. Dumbo was completed when some animators crossed the picket line; after the Labor Department ended the strike, Disney laid off more than 200 of the strikers.
The animators wanted to join the Screen Cartoonists Guild, a move Walt Disney resisted. Workers staged a walkout, and on July 9, 1941, Variety reported, "There was the added charge that subversive and communistic elements were active in the controversy. The latter was obviously aimed at Herbert Sorrell, business representative of Moving Picture Painters Local 644 and strike leader, who had been charged with being a communist." …
The Animators Guild: Disney Animation Strike of 1941
The Animator's Guild, local 839, offers more information on their history.
"The Mouse Factory proved to be the biggest challenge. Disney artists considered themselves the patricians of the industry, under Walt's benevolent rule.
"But anger over the long-promised profit sharing from Snow White, alienation over blunt maneuvers by Disney lawyer Gunther Lessing, and other conditions made the workers sympathetic to the call to unite.
"Walt felt personally betrayed when Art Babbitt, his highest-paid animator, resigned as president of the Disney company union to join the Guild. Three days after Disney brazenly fired Babbitt, the Disney strike began on May 29, 1941.
"The strike lasted for five weeks, forever tearing the social fabric of the studio.
"FDR sent a Federal mediator, who found in the Guild's favor on every issue. Walt left on a Latin American tour to ease tensions.
"Fearing the loss of government contracts and the recall of bank loans, Disney signed and has been a union shop ever since."