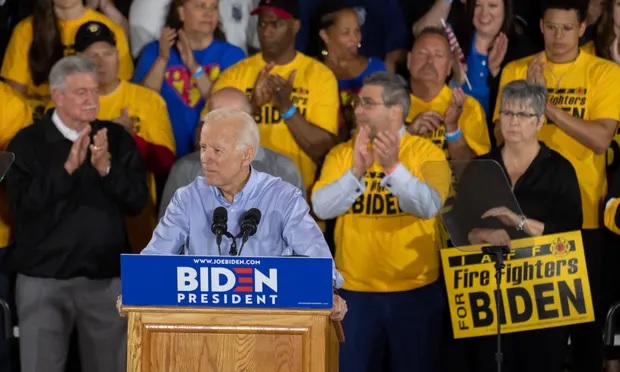 Reprinted from the Manchester Guardian by Gabriel Winant on May 2, 2019.
"In San Francisco there's a high-end boutique called 'Unionmade,'" writes Gabriel Winant in The Guardian. "There you will find expensive work jackets and overalls, lit by bare bulbs and displayed on unvarnished metal shelves. The aesthetic could not convey its message any more clearly: buy these clothes, and access a bygone era of authenticity and American craftsmanship. But it's a lie – the clothes on offer are largely not union-made. 'The unfortunate reality is that there are not many unions left in the garment industry and so the name was cultivated as a signifier of well-made and aesthetically timeless goods,' explains a spokesperson.
"As the industrial working class has faded, its afterimage has become available for appropriation in commerce, in culture and in politics. Such appropriation need not entail commitment to the workers' movement. Everyone from Levi's jeans to Donald Trump has made this move – and now, Joe Biden, the would-be candidate of labor.
"Biden is the 'Unionmade' of politicians. The former vice-president is taking great care to dress up his new candidacy in a blue-collar costume; as Andrew Epstein puts it, he is an 'aesthetic populist.' His kickoff rally was on Monday in a union hall in Pittsburgh, where the president of the United Steelworkers of America promised his members would be present 'wearing their USW gear.' …
"At no point in his career has Biden proven willing to take the slightest political risk on behalf of workers. His appearances in union halls occur when he needs something from labor. On the other hand, when Biden went to vacation in the Hamptons during the 2011 Verizon strike, workers in the area sought him out 'just to possibly get a show of support, a thumb's-up, a head nod, anything' – to no avail. That same year in Wisconsin, labor leaders specifically asked Biden to come to rally their resistance to the brutal, ultimately successful attack by Scott Walker; Biden declined. …