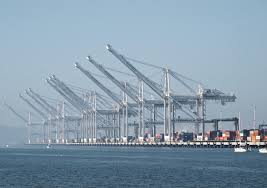 Reprinted from Salon by Eli Wolfe on July 28, 2018.
For the third time in six years, a branch of one of the world's largest cargo-handling companies has been accused by workplace safety authorities of a willful violation linked to a worker's death.
The most recent case, stemming from a death at the Port of San Diego, also marked at least the seventh time in a decade that a worker for SSA Marine Inc. has been killed on the job, according to government records.
Cal/OSHA announced last week that it is seeking $205,235 in penalties from SSA Pacific Inc., a division of Seattle-based SSA Marine Inc., for violations related to the death of Phillip Vargas, a 54-year-old stevedore and member of the International Longshore and Warehouse Union (ILWU) Local 29.
The accident occurred on January 3 while Vargas was operating a Caterpillar forklift in San Diego. As he drove the lift into a storage shed, Vargas collided with a concrete support column, which threw him from the cab. Vargas suffered blunt force head and torso trauma from hitting the concrete floor and getting run over by the left wheel of the lift, according to a Cal/OSHA investigative summary. He was pronounced dead a few minutes later. …